The value of a strong support organization in warehousing
Transitioning to a best-of-breed warehouse management system (WMS) can be an intensive process. Between integrating systems, training employees and navigating speed bumps during go-live, there are plenty of moving parts to consider.
When you select a WMS, you're not just picking the solution. Technology can solve many of your woes, but only if it's backed by experts with your best interests in mind.
You need a solution provider that asks the right questions and probes your pain points before implementation, provides training and support during implementation, and offers superior customer service for any future problems – or opportunities for growth – within your organization.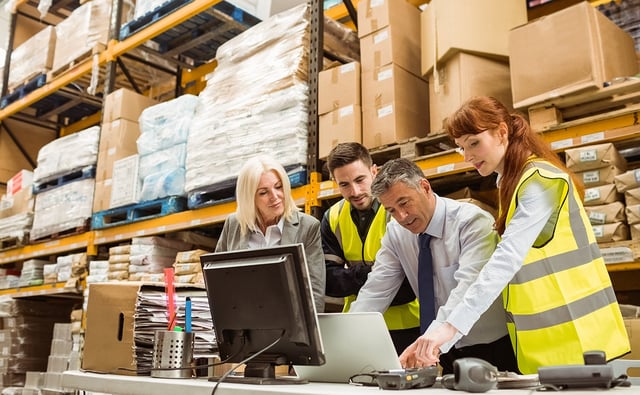 Phase 1: Before the go-live
The relationship with your WMS team begins the minute you conduct an informational call. Planning, training and preparation are key services that your WMS provider should assist with in the initial stages of WMS adoption.
It's important to work with your provider to identify operational pain points before implementing your WMS, as your challenges will inform measurable goals for improvement. The right research can focus your solution on the particular areas of concern and growth in your warehouse and maximize the benefits of your customized solution.
Look for a WMS provider that's just as passionate about people as they are about process. They should recommend in-depth interviews with your team members in the months leading up to go-live and warehouse-wide meetings with their support staff and your senior leadership throughout the process. Open communication sets your company up for a successful vendor relationship from day one.
A WMS has significant upfront costs, but with proper planning and preparation, its value will reflect in your streamlined processes. A clear understanding of the new technology pre-implementation can help make the go-live process seamless and efficient for all involved.
Phase 2: The go-live
The time has finally arrived to implement your new warehouse management system. Unfortunately, it takes more than plugging and chugging to get your system off the ground.
The implementation process can be lengthy, so you need a solution provider who walks you through each step and can answer any of your team's questions – day or night. When your WMS provider offers continual, detailed training, you can maximize the benefits of and minimize the delay in onboarding your new solution.
Another important consideration: You may find your new solution comes with bells and whistles you're not familiar with. You'll want customer support that will help you find the value in these capabilities – not push them on you for profit.
Shifting from legacy systems and manual processes to a best-of-breed WMS comes with its share of demands, but strong customer support can help you address these demands and fine tune operations throughout the entire implementation process.
Phase 3: Post go-live
Once your system is operational, your WMS team plays a crucial role in ensuring the software is driving efficiency for your unique operations. Problems will inevitably arise as your warehouse adjusts to new technology. You need a provider that offers ongoing support to address any issues that may surface after your WMS is live and is capable of quickly adjusting the system to account for speed bumps.
As your warehouse grows from your newly efficient processes, there will come a time when you're ready to scale the business. A supportive provider can help you manage growth and offer the services you need to help your warehouse management system evolve alongside your business.
A lifelong partnership
Your relationship with a WMS support staff goes far beyond implementation. It is a partnership with your solution provider, from the minute you decide to implement a WMS, to the months you spend preparing your warehouse for the new technology and training employees to use it efficiently, and to the day when you're ready to grow your warehouse and your business.
The right WMS provider for your business will be there with you every step of the way – and that is truly invaluable.
Share this Article!