SnapFulfil recognized as Top 100 IT Provider for fourth consecutive year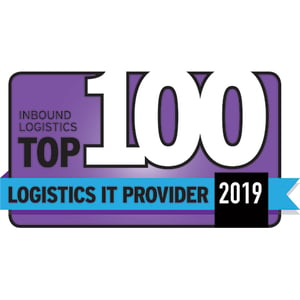 SnapFulfil, the multi-award-winning cloud WMS, has been named in the list of Top 100 Logistics IT Providers by Inbound Logistics for the fourth straight year.
Inbound Logistics editors herald the best 100 logistics IT companies globally that support and enable logistics excellence – and the SnapFulfil warehouse management system has once again been recognized as a functionally rich, best-of-breed cloud system that delivers wide-ranging efficiency, financial, operational and productivity improvements to warehouses large or small.
Drawn from an elite pool of more than 300 companies worldwide, using questionnaires, personal interviews, and other research, Inbound Logistics selects the Top 100 Logistics IT Providers who blaze a trail and answer the Inbound Logistics audience's needs for scalability, adaptability, simplicity, fast ROI, and ease of implementation.
Inbound Logistics' Editor, Felecia Stratton says: "SnapFulfil continues to provide the transformative technology the Inbound Logistics audience needs to achieve the visibility and control that drives efficient and evolving business operations. It offers intuitive warehouse management solutions that meet the challenges of today's complex retail landscape, thanks to a rapid implementation process and low total cost of ownership, and also delivers tangible supply chain agility and optimization."
SnapFulfil's CEO Tony Dobson, adds: "This is fantastic news and we're honored and delighted to be listed yet again and proud of our ability to consistently evolve and remain a competitive leader."
About Inbound Logistics
Since its inception in 1981, Inbound Logistics' educational mission is to illustrate the benefits of demand-driven logistics practices, give companies the knowledge to help them match the inbound flow of materials to their demand, and align their business process to support that shift. Inbound Logistics offers real-world examples and decision support to guide businesses to efficiently manage logistics, reduce and speed inventory, and offset rising materials and logistics costs, supporting business scalability and change management across their value chain. More information about demand-driven logistics practices is available at www.inboundlogistics.com.
About SnapFulfil
SnapFulfil is a functionally rich, best-of-breed cloud WMS which can be deployed in a variety of ways to meet the operational and financial needs of any warehouse, large or small. Multi-award winning, it was architected for the web in 2007 and is now used in leading warehouses throughout America and Europe. Built on over 40 years of experience, it's one of the most adaptable and scalable warehouse management systems on the market, offering fast implementation and rapid return on investment. For additional information, visit www.snapfulfil.com.
Share this Article!