SnapFulfil recognized as Inbound Logistics Top 100 Logistics IT Provider 2017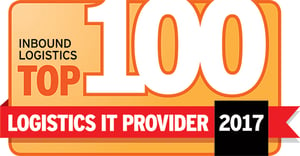 Multi-award winning cloud WMS, SnapFulfil, has once again been recognized in the Inbound Logistics Top 100 Logistics IT Providers 2017 listing.

Every April, Inbound Logistics editors recognize 100 logistics IT companies that support and enable logistics excellence. Drawn from a pool of more than 300 companies, using questionnaires, personal interviews, and other research, Inbound Logistics selects the Top 100 Logistics IT Providers who are leading the way in 2017. Editors seek to match readers' fast-changing needs to the capabilities of those companies selected. All companies selected reflect leadership by answering Inbound Logistics readers' needs for scalability, simplicity, fast ROI, and ease of implementation.

The SnapFulfil Cloud WMS is a case in point, delivering wide ranging efficiency and productivity improvements and a rapid return on investment.

Inbound Logistics' Editor, Felecia Stratton says: "Business leaders are struggling to balance the need for advanced WMS functionality to wrangle the complexity of omni-channel and e-commerce distribution regimes against the demands for rapid implementation and low total cost of ownership. SnapFulfil continues to provide solutions to help meet those challenges, and that's why Inbound Logistics editors have recognized it as one of 2017's Top 100 Logistics IT Providers."
Share this Article!