Women in supply chain: don't fear speaking up
Fresh from being hailed as a 'Standout' achiever in SDCE'S 2022 Women in Supply Chain award winners, Smitha Raphael says it's easy to question what women know about the supply chain - but that goes away once they find their voice.
---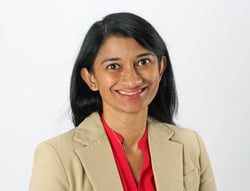 My background is electrical engineering – and let's face it there aren't many females in senior positions in that sector – but following it up with a master's degree in business administration I was drawn to the supply chain industry. There are two reasons – as a sector it seemed more inclusive and suited to a hands-on and technically creative problem solver, such as me.
I was also determined to get as much varied experience as possible, starting off as an IT systems analyst, before moving into project management and the product delivery role I now occupy.
But right from the get-go I promised myself that, where possible and applicable, I would get my professional opinion across and not have a fear of speaking up. Your average DC is full of male forklift drivers and pallet pickers, and there is the notion what would she know about loading up a truck or shipping management?
However, that quickly goes away when you're able to speak clearly and knowledgeably about process optimization and demonstrate how and why it might work better. Furthermore, positive actions and end results speak even louder than words, plus you're making people's jobs easier and more rewarding and that goes a long way.
In short, if you know your stuff, be confident in your ability and in articulating it!
Think on your feet and adapt
I'm convinced that women are well suited to the dynamic challenges of the supply chain industry, because you must be very patient, yet able to think on your feet and adapt. Some 40% of our industry workers are now female, which is great progress, but we've still a way to go in senior management roles where numbers are still lagging.
That's a pity, because in my experience some of the best leaders are women and it's because of an inherent ability to show empathy and understanding to colleagues, especially during stressful situations and demanding situations.
Additionally, we can bring diverse and different opinions and interpretations. It's not just about gender though, but also multiple social and cultural backgrounds in the room, generating more opinions and solutions to make the desired end result more attainable.
Be true to yourself
There's nothing wrong with being ambitious but be true to yourself as well – and don't be afraid to ask for help. Whatever your level, experience and gender, everybody needs some form of guidance at certain times.
I've certainly been blessed with great advice and encouragement during my career, so do learn all you can from good role models. They will prepare and back you, but also push you towards areas that are perhaps more challenging for women – but again when you speak up and succeed it is even more gratifying.
A good mentor will also push for educational support and courses to help you get on and feel more confident and comfortable in your role. But having benefitted accordingly, do adopt this philosophy yourself and give back to the industry in the same way.
Finding the best resolution
I've been called a glass-ceiling breaker, but it's more about bringing my background and experience to bear in quickly assessing challenges, finding the best resolution possible and delivering value.
Being a customer and outcome focused leader requires intellectual curiosity, domain expertise, and trouble-shooting skills and I'm delighted to hear from my peers that this prestigious award and my career example in general will spur on other women in the industry.
I truly hope that the need for women recognition awards will soon not be required as we will have an equal voice, including in the board room!
But we're not there yet. So, find your voice and don't be afraid to speak up and use it – because there's never been a better time to contribute to the growth of your company, the WMS space, and the broader supply chain as it undergoes momentous change.
Share this Article: