Over the last few years, much has been made of the shift away from on-premise or proprietary software and into cloud solutions. Now, ample data exists to prove that not only are cloud and software-as-a-service solutions essentially mainstream, but they are really making a difference for businesses in almost all industries.
A recent study from the Harvard Business Review found that among CIOs of various organizations, the adoption of cloud software has increased substantially. A full 84 percent of businesses surveyed said they were more reliant on cloud than ever before. In terms of business impact, 40 percent saw their revenues increase upon adoption of cloud software, and 36 percent enjoyed bigger profit margins. Clearly, the business world isn't moving to the cloud just because it's considered the cool thing to do - it's increasingly becoming a primary driver of growth and an avenue for realizing key objectives.
"Moving supply chains to the cloud confers numerous advantages."
The sample for Harvard Business Review's cloud survey included business leaders from all stripes, but didn't differentiate between industries. However, according to many experts, including Anthony Clervi of UNA Purchasing Solutions, cloud adoption among logistics professionals isn't as widespread. The reasons for this are hard to deduce, but it could involve the intricate nature of supply chain operations. With so many moving parts spread across many miles, even in the case of smaller organizations, moving to the cloud could be seen as an unnecessary headache.
In Clervi's view, though, any initial frustrations involved in updating supply chain software are a small price to pay for greater efficiency, faster turnaround times and tangible financial benefits.
"Though the industry's move to cloud computing is still in its youth, cloud technology makes a lot of sense for supply chain managers," Clervi wrote. "Traditional supply chain management systems are much more transactional, and can't offer the real-time accuracy and 360-degree management of cloud management solutions."
Real results
So what are the benefits of a cloud platform specifically for supply chain management? According to Clervi and others, the advantages are numerous.
Instantly scalable: Before cloud and SaaS, when a business outgrew its software systems, that meant it was time for an expensive, labor-intensive upgrade. Now, that upgrade could be as simple as a phone call or an email. Software for warehouse management, as well as other supply chain operations, can be installed and upgraded in practically no time, since they don't require specialty hardware or specific IT expertise.
Efficient: As supply chain reporter Louis Columbus noted in Forbes, IT departments across all industries are facing greater demands on shrinking budgets. Luckily, cloud solutions have advanced to the point where this trade-off is a feature instead of an obstacle. Without the implementation and maintenance concerns that on-premise software requires, IT teams love cloud applications.
Flexible: In the case of a cloud WMS, it's possible to perform many tasks using just one system. The ability to consolidate features like this and create a one-stop-shop for supply chain managers simply makes for a better work environment. Business users can feel confident that they are in control when they don't have to rely on a grab bag of software to perform the most essential jobs.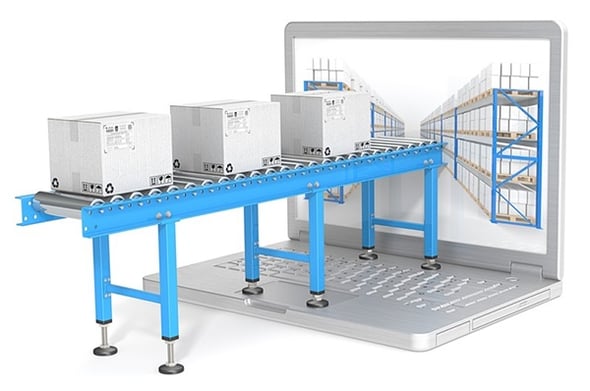 Cloud-based supply chain operations enjoy greater flexibility for lower costs.
Perhaps the best part of cloud solutions for the supply chain is that they still haven't reached their peak potential. According to a recent report from Accenture, the future of supply chain management in the cloud is immense, and most readily available for early adopters. By making the sensible investment in cloud technology now, it's entirely possible that organizations are setting their supply chain operations up for sustained success and efficiency.