It's common wisdom in real estate that over the long-term, buying a home is a much more financially savvy move than continuing to rent. Since paying the rent on an apartment each month doesn't equate to any actual ownership, it's widely regarded as unwise in most areas. This logic is often extended into the business world. In the interest of keeping costs low for the longest period of time possible, it's no surprise that executives will always prefer to buy what they need when they can, and rent only when absolutely necessary. Because of this prevalent mindset, many are under the impression that new models of software for warehouse management should be judged by the same old heuristic.
In fact, when it comes to choosing the best warehouse software, many supply chain decision makers are finding that new software-as-a-service models are providing great benefits over the traditional way of doing things. As it stands now, choosing a SaaS WMS over an on-premise solution would provide numerous benefits in the areas of initial start-up expenses, service level and long-term return on the investment. These are just a few reasons why warehouses around the world are making the switch.
How businesses benefit from SaaS
The world of SaaS software is relatively new, enabled by the growth and sophistication of cloud software solutions. More companies are choosing a cloud WMS over alternatives because the cloud-based SaaS model has quickly proven capable of meeting its targets for cost as well as performing as well or even better than expected.
A recent survey from technology analysts at Computer Economics found the data to explain why more businesses are making the move to SaaS. The study compared companies who had adopted cloud software and SaaS services in key roles with organizations who relied on more traditional software approaches. Throughout a diverse selection of industries including manufacturing, distribution and service-focused companies, Computer Economics found those that relied on SaaS strategies were spending much less on IT costs. Cloud-based business solutions were found to equate to a more than 15 percent reduction in overall expenses, compared to more traditional competitors. The average IT spend amount seen among cloud users was actually the lowest recorded by Computer Economics' data since 1990.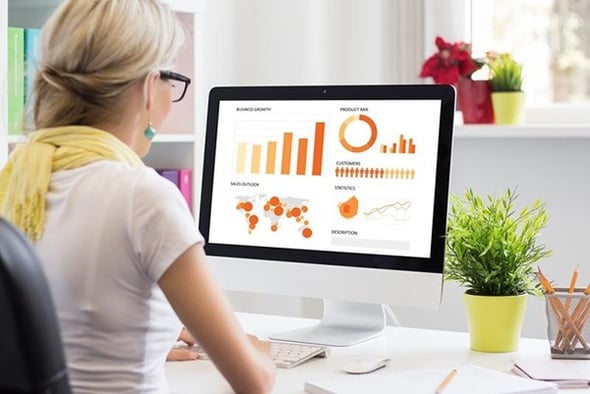 SaaS allows warehouse managers to grow their business at a faster rate.
Why move to SaaS?
The benefits that can be gained from switching to a cloud-based SaaS model are numerous, and impact not just the bottom line but worker productivity and operational efficiency as well. These are all major drivers of growth for small- and mid-sized warehouse operators, who would see the best growth potential from adopting a cloud WMS for their logistics needs.
Less time to implementation: According to software news source Dynamic Business, SaaS is quickly becoming the standard for enterprise software, and its low installation and implementation time is a key reason behind this shift. Without the need for specialized hardware, tedious installation or continuous upgrades, SaaS comes out on top in this regard.
Better for growth: The e-commerce sector has seen an explosion of business activity recently, but businesses now entering this competitive industry must find ways to pare down costs and invest in growth. With its remarkably low initial cost and other ancillary cost benefits, SaaS is proving itself the best bet for warehouse management software.
Support costs built in: Traditional on-premise solutions often require expensive and time-consuming servicing just to keep things running. Since SaaS software operates like a subscription, the relationship to the vendor is much tighter. Businesses using a cloud WMS enjoy a higher level of service thanks to this.