Warehouse space becomes a challenge for retailers
When we think of a booming property market or hot properties, many of us picture a slick city apartment, country mansion or luxury villa in the sun as the most valuable. As it turns out, however, one of the most expensive and sought-after property types isn't even residential, but it's becoming increasingly central to the lives of most people without most of them realising.
"Warehouse rents in the UK are soaring."
In the UK, the warehouse is the new must-have property asset, and rents are rising in accordance. According to Kevin Mofid, director of logistics research at real estate agency Savills, what little warehouse space that is left in the UK is fetching high rents. Mofid and research from Savills suggests that of the approximately 420 million square feet of total warehouse space in the UK, just 30 million is now on the market. That's 70 percent less than what was reported in 2009. Development of warehouse space hasn't kept pace with its demand, either. Since 2012, only 10 million square feet has been developed, according to Mofid.
The reason behind this trend of ballooning rents and shrinking space is, of course, the e-commerce boom. But it's not just the surge in demand for products delivered to the doorsteps of millions of UK residents. The nature of e-commerce has required logistics professionals to undergo fundamental changes in the way they use warehouse space. A cloud warehouse management system may be the perfect solution for this situation, and one that reduces spending while increasing growth potential. A cloud WMS can reduce safety stock and allow for real time demand forecasting, among many other efficiency-focused features. This all adds up to space saved and more money spent on operations, instead of property.
No space, no time
For one, warehouse space is sorely lacking in areas where it is most needed. As noted in a column from Total Logistics, the majority of warehouse space in the UK was designed for the needs of 20 years ago - primarily bulk storage and wholesale shipping. Now, warehouses must typically accommodate a much bigger product range and smaller orders in a significantly shorter timeframe. Location is also of greater consequence in e-commerce, with warehouses close to population centres making for ideal investments. But according to Total Logistics, almost no warehouses big enough to support future demand are on the market in the nation's most populous areas.
Just how much faster do e-commerce warehouses need to grow to meet current demands? According to Total Logistics, a "traditional retail replenishment warehouse" can usually expect growth rates of 5 percent per year. That means in the time it takes to build a new warehouse - typically around three years - the new facility would need to accommodate 50 percent more space within five years, given the needs of inventory and accounting for peak demand periods.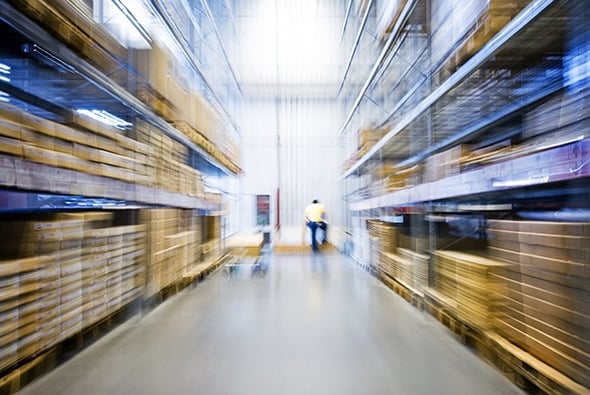 It's getting harder to find warehouse space in the UK, especially for e-commerce retail.
On the same scale, an e-commerce business experiencing 30 percent growth per year - not far off from the real industry average - would be almost twice as big once a new warehouse project was completed, and need the space for eight times more than when it began the project.
Building new distribution centres just isn't practical even for the fastest-growing e-commerce enterprises. What is practical, however, is implementing a smarter warehouse management system that allows for more efficient operation.
With both property and people currently at a premium, a proper warehouse management system will drive process and efficiency improvements which allow companies to squeeze every last drop of capacity and productivity out of their existing resources. This allows them to do more with what they already have before increasing the size of either their warehouse or workforce.
Share this Article!