Warehouse 101: Using lessons learned from fulfillment across the organization
It's no secret that the warehouse plays a critical role in driving a better customer experience. But because most of an enterprise's employees will never step foot in its fulfillment center, it's easy to forget just how much time and effort goes into maintaining this well-oiled machine.
Warehouse success ties directly to every function across the organization, from sales and marketing to HR and accounting. So as organizations set performance goals for 2019, what warehouse lessons can they utilize across the board to drive greater efficiency and improve operations?
Lesson 1: Visibility is key
Any warehouse knows that deeper visibility into processes and people is paramount to fulfillment success. However, numbers should guide your processes throughout the company. The more data visibility you have into your organization, on all fronts, the better equipped you are to grow and evolve.
Still, it's not enough simply to have data. You must analyze it and identify patterns to improve operational excellence. As in the warehouse, tracking performance can be an invaluable way to identify areas where company operations could be stronger, and take the right actions to improve processes.
Consider implementing benchmarks for both individual departments and the organization as a whole – and hold your team accountable for reaching those benchmarks. This provides a track record to identify chances for improvement and examples of success.
Lesson 2: Efficiency: the ripple effect
As much as we'd like to think that one individual or one department can operate independently of the rest, a lack of collaboration slows down processes and negatively impacts morale – if one department isn't getting its work done in an efficient manner, it affects other departments' ability to complete their duties.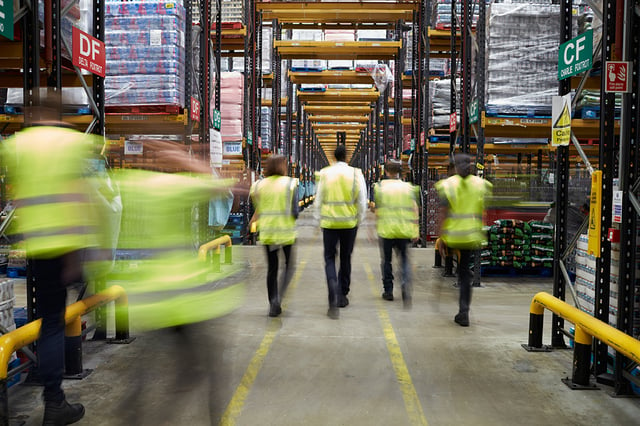 Because packers rely on pickers to move product to stations quickly, and your delivery team needs to load product as quickly as possible, the warehouse provides a good example of the success a company can achieve with maximum efficiency. Using technology such as a best-of-breed warehouse management system (WMS), employees continuously refine operations to shave as many minutes, or even seconds, off of their processes as possible. For example, using data to reorganize best sellers or optimize picking paths simplifies a picker's job. This allows a continuous flow of product to packers, who can move more product onto the truck.
Efficiency has a ripple effect across an organization. Emulating the refinement processes of the warehouse can be a good start to measuring and improving efficiency company-wide.
Lesson 3: Be ready for scalability
Once you've conquered visibility and efficiency, scalability is a natural next step. It's an area the warehouse must be prepared for, as the rise of eCommerce and viral marketing has led to "surprise" peak seasons. If your fulfillment team can't manage a sudden burst of interest in your product, you'll miss a golden opportunity to boost your sales and brand recognition.
Similarly, each department needs to consider what heavier operations might look like; for instance, your website should be able to handle heavier traffic, and your customer support team must be properly trained to manage an influx of calls. Start building a foundation for scalability now, so that you can enable seamless growth later.
Think like the warehouse
Because the warehouse handles the actual product, we often think about the need for visibility, efficiency and scalability through the lens of the fulfillment center. But companies that master these principals across operations increase their competitiveness in a rapidly evolving retail ecosystem. Let your streamlined pick, pack and ship operations serve as a blueprint for how better execution can be implemented company-wide.
Share this Article!