Walking the tightrope: On-time delivery vs. shipping accuracy
According to a study conducted by Retail TouchPoints, 49 percent of warehouse managers see customer expectations around delivery times as their most significant last mile challenge. But the rise of eCommerce has also led to another shipping challenge: accuracy. 20 percent of all products ordered online are returned, with the number climbing to 30 percent during peak season, according to Shopify. Compare that to the 8-10 percent of brick-and-mortar purchases that are returned.
So how can warehouses enable faster delivery without letting accurate fulfillment fall by the wayside?
That's where a best-of-breed warehouse management system (WMS) comes into play. Consider how a WMS can help you master both shipping speed and accuracy to ensure your fulfillment operations not only meet rising consumer expectations, but exceed them.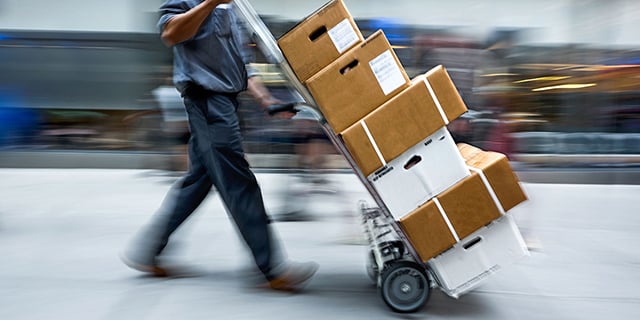 The need for speed
With the rise of free two-day shipping from eCommerce goliaths such as Amazon, retailers are feeling the pressure to deliver – and at unprecedented speeds. For the warehouse, this means mastering fulfillment from multiple channels and ensuring operations are optimized to get goods out the door faster.
The data collected from a WMS can help you optimize your warehouse layout, helping your picking and packing processes keep up with increased demand. It can give you deeper visibility into space utilization, allowing you to maintain optimal picking paths and maximize productivity. Additionally, a WMS continually tracks data on the speed and efficiency of all warehouse processes, helping you determine where your pain points are and, subsequently, how you can best improve operations.
The devil is in the details
Though delivery speed is a top concern for today's consumer, it's all for nothing if your accuracy rates are low. Though you may have shipped a product out the door faster, if the item is incorrect, you just might see that product come right back into your warehouse – wasting precious time and energy on unprofitable warehouse tasks. You'll also negatively impact your company's reputation in a time when competition has never been higher.
Fulfilling direct-to-consumer orders poses significant chances for errors in your picking processes. But with the right WMS, you'll have the insight into all inventory levels and order statuses – allowing you to provide real-time information to both retailers and consumers. A WMS can help bolster your fulfillment operations by maintaining order information, as well as reducing miscommunication by serving as an extra pair of eyes at packing stations.
Get rid of the balancing act
For many, the heightened expectations of the modern customer experience pose a challenge for fulfillment operations. It feels like an either-or; speed up delivery and lose attention to detail, or triple check all orders and slow down packing. But you don't have to sacrifice accuracy to maintain delivery speed, or vice versa.
If you want to escape this catch-22, start by determining whether speed or accuracy is your warehouse's bigger pain point. Spend time with your pick, pack and ship team – the ones who are most familiar with your current solutions and processes. Use your observations to drive the search for technologies that best address your unique challenges.
By taking the time to fine-tune your technology and rectify speed and accuracy issues, you'll soon be able to provide the superior experience today's consumers desire – and have resources to spare.
Share this Article!