Utilizing a cloud WMS to take advantage of e-commerce growth
One of the biggest shifts in retail business over the last few years has been in the enormous growth of the e-commerce industry, as well as the demand for this functionality. According to a recent article from Logistics Management, businesses are under more pressure than ever before to deliver larger numbers of goods on time, and through a variety of channels. This has left warehouses and distribution centers scurrying to keep up with the pace of business, leaving little time to learn, adapt and grow with the changes.
Retailers struggle with demand
According to a large report from the Institute for Supply Management, manufacturing activity in the U.S. fell for the first time in more than a year in 2015. Statistics indicate that this may have been due to businesses struggling to adapt to the massive increase in inventory that the previous surge created. Indeed, another study from Logistics Management found the number of individual stock-keeping units from distribution centers increased 18 percent in 2015. In tandem with this increase, 38 percent of logistics professionals surveyed were expecting to see the number of SKUs continue to rise in 2016.
"Businesses are scrambling to meet increased demand."
It's quite likely that e-commerce is driving this surge. Forty percent of respondents to the Logistics Management survey said they now maintain an e-commerce channel, compared to only 6 percent in 2014. The addition of yet another channel to manage only means increased complexity for supply chains, while customer demands are also getting stricter. This has prompted DCs to move toward a unified omni-channel approach. Instead of separate DCs being allocated to individual channels, the industry norm has become running each channel under the same DC. According to Logistics Management, this necessitates better inventory management. Businesses that don't incorporate advanced inventory tracking, reporting and management could lose serious ground to competitors in a short amount of time. Even with these features, businesses without an intuitive solution for visualizing and acting on them are likely to be left in the dust.
Seizing the opportunity
With consumer expectations rising sharply, small e-commerce operations face the seemingly daunting task of upgrading their infrastructure to better support their growing network of suppliers and distributors. With such an urgent need, it's easy for business leaders to make a quick choice and go with a bare-bones solution if only to stem the tide for just a little while. While a small, quick upgrade may benefit businesses in the short-term, the real cost of picking the wrong WMS for your company's needs could prove disastrous not far down the line. Picking the wrong WMS for your business doesn't just mean eating hard costs like that of purchasing and re-implementing a new solution. It also means lost time, missed orders and a missed opportunity to grow your business.
The sharp increase in demand brought on by the growth of omni-channel distribution, especially from e-commerce, puts logistics-focused businesses under serious pressure to adapt. According to a survey from ARC Advisory Group, e-commerce revenues have grown 51 percent over the last five years, and are expected to continue to grow by another 42 percent over the next five. Businesses that aren't able to leverage this opportunity by optimizing their supply chain will likely miss out on a large portion of this growth.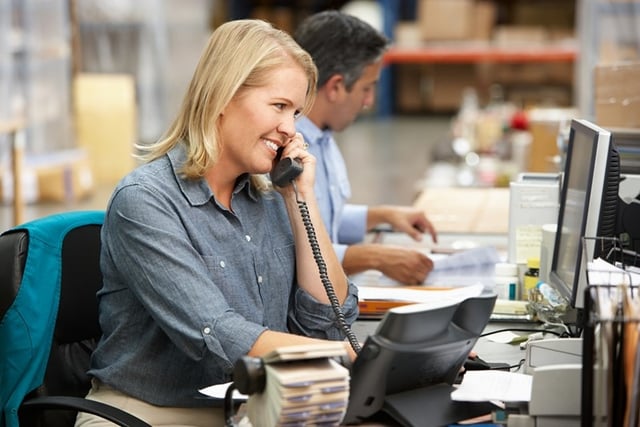 Retailers who can meet the growing demands of e-commerce will enjoy serious, sustainable growth.
As Chris Cunnane at Logistics Viewpoints explained, the time to embrace e-commerce is now, and the way to attack it is with a cloud-based software solution. While consumer demands are getting more complex, and supply chains becoming increasingly complicated in response, software for warehouse management and other logistics operations is getting more intuitive. In growing from multi-channel to cross-channel and finally omni-channel, retailers are now expected to deliver on the promise of fast response times and a hassle-free user experience.
Turning first-time customers into repeat customers is one of the biggest value multipliers a business can achieve, and this goal becomes attainable with a cloud WMS. With easy integration, small and medium-sized retailers don't need to worry about cutting deep into the bottom line, and instead can realize a sizeable return on their investment almost immediately. In addition, a cloud WMS allows for a wider degree of visibility than other solutions, enabling logistics managers to maintain a nimble supply chain that's fine-tuned to the demands of customers and the business as a whole.
Burgeoning businesses shouldn't get swept away by changing tides. With the ease and precision of advanced WMS software, they can instead grow faster and move further than ever.
Share this Article!