Using technology to drive reverse logistics
With retailers losing upwards of $600B per year on product returns, with 75% equally spread throughout EMEA and North America, implementing an efficient reverse logistics and returns process should be top of mind with warehouse and supply chain executives. Unfortunately, for many, it's not.
Despite continual moves to drive greater efficiency from all supply chain operations, the management of returns is often considered a "must do" operation lacking the strategic incentive of other initiatives designed to deliver bottom line results. As such, it often remains a manually controlled operation constrained by outdated processes and a high degree of costly employee interaction.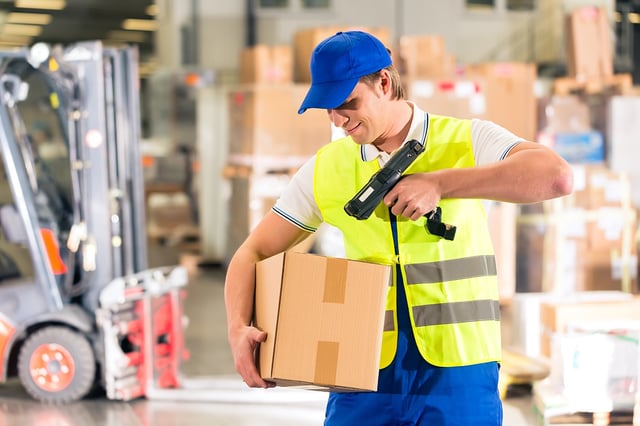 For retailers struggling to keep up with competitive pressures surrounding fulfillment speed and customer satisfaction, returns have become an increasing burden. In the unforgiving quest to deliver the ultimate customer experience, many firms have relaxed return policies that, while fostering stronger customer loyalty, are generating a large volume of returns of viable merchandise from customers. In fact, in North America alone e-commerce returns are growing at the rate of 15% per year. Studies show the top two reasons for customer returns are either wrong size or simple buyer's remorse, rather than defective product.
In those situations where a manufactured product fails in the eyes of the customer, managing the return/replacement process is heavy on the replacement – again to maintain customer satisfaction – but much lighter on managing the ultimate disposition of the returned item to extract additional value. Often, returned product is relegated to dark corners of the warehouse for final dispositioning that might not happen for weeks, months or longer. For many returns, after occupying warehouse space for a period, the next stop is liquidation – which returns only a small fraction of the product's original value. Remanufacturing, refurbishment or sales to secondary markets may not even be considered.
Making it work
The key to making reverse logistics work involves speed and simplicity. What's missing from the process for many is the technology that can transform this typically long, costly and complicated process into an efficient, automated and easily managed operation – a best practice that can extract significant additional revenue from repurposed or remanufactured goods.
Since the value of returned goods diminishes over time, logic dictates that the faster an organization can manage returns through final disposition, with the fewest number of required human touches, the more value will be recovered. It's here that technology makes all the difference. For example, adopting a warehouse management system with return management functionality can allow you to quickly establish tracking and material flow processes. These can optimize the returns process, from the dock to final dispositioning.
Warehouse management software can also drive the transition from manual to digital returns tracking, enabling a more accurate and automated way of tracing returned product through the warehouse. Finally, the return data that can be captured and stored in an effective warehouse management system can aid everything from future inventory planning and product management to supplier evaluation and customer lifecycle management.
Real world example
A good example of a company that's leveraging technology for reverse logistics is America's Remanufacturing Company (ARC). ARC specializes in partnering with manufacturers and distributors looking for a customized, comprehensive strategy to maximize returned goods value while simultaneously protecting the value of new goods. The company is now considered the largest small appliance remanufacturer in the world.
When ARC found their own paper-based system seriously deficient for keeping up with their rapid growth, they turned to Snapfulfil's cloud-based warehouse management system to give them the inventory visibility and product sorting capabilities they needed to meet customer demand. Their challenge, like many retailers and manufacturers struggling to effectively deploy technology to drive change, was finding a solution flexible enough to accommodate the uniqueness of their remanufacturing process.
Enter Snapfulfil.
With its unique flexible structure and rapid implementation, the Snapfulfil Cloud WMS enables ARC to optimize each step in the remanufacturing workflow. From unloading stock to storing it, repairing, recycling or selling it, ARC has complete inventory visibility and control.
Recently, ARC has made its inventory data available to the product owner, using a Snapfulfil-powered portal to show manufacturers the exact status of their goods. This level of transparency gives customers significant insight to aid their own supply chain optimization and has given ARC a competitive edge when attracting new business. Click here to read the case study.
Whether you're a manufacturer, brick and mortar retailer or e-commerce supplier, capturing the maximum value from goods sold by implementing a cost-effective returns management/reverse logistics process should be a strategic priority. The good news is that you now have the technology to make that strategy a reality.
Share this Article!