Three key takeaways from Subscription Summit 2018
Customer experience took center stage as the subscription commerce industry arrived at this year's Subscription Summit.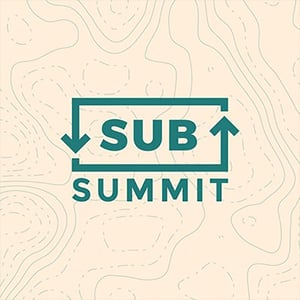 The third annual summit, May 30-June 1 in Denver, took place as the subcom industry experiences an offerings boom – 47 percent of today's subcom offerings launched in the last 12 months, according to a recent Snapfulfil/Subscription Trade Association study. More than 750 attendees, representing both established offerings and new boxes, gathered to share their strategies for building a better box.
This year's program offered more than 75 speakers from across the subcom industry. Panels touched on topics including customer retention, marketing and offering sustainability. The event culiminated in the 2018 CUBE Awards, with winners including Loot Crate (Best Overall Box), Boxycharm (Best Customer Experience), Hunt a Killer (Best Marketing Campaign), Box of Style (Best Women's Box) and Watch Gang (Best Men's Box).
Our team had the chance to participate in several presentations, which provided some great insights on the customer life cycle. Here are our three top takeaways:
Better customer experiences require deeper knowledge
Like all businesses, subcom offerings must accurately target an audience if they want to flourish. But beyond their likes and dislikes, how much do you know about your audience? How do you keep track of all the forces impacting the delivery of their box?
A panel including Andrew Lopez-Gallego, co-founder and head of sales at Kettlebell Kitchen Inc.; Matthew Gallagher, CEO at Watch Gang; Jordan Salvit, co-founder at KitNipBox; and Alon Waks, VP of Marketing at Kustomer, discussed the deeper side of customer experience – staying one step ahead of any potential pain points. Boxes need to know their customers' schedule of deliveries, temporary or permanent change of address, and changes or delays caused by weather and travel, and that information needs to be easily accessible. In short: subcom companies need to be everywhere at once – and have contingency plans in case a shipment goes wrong.
In customer acquisition and retention, good is no longer good enough
You have a good customer response time, and your support staff consistently receive high marks from surveyed customers. That's good, but it's also an outdated measurement of success. Customer service needs to become active rather than reactive.
TJ Stein, head of customer experience at MeUndies, discussed a different approach during his Subscription Summit presentation: customer success organizations. Typically found in B2B companies, these teams focus on support after acquisition; for instance, in a software-focused company, the CSO team would host user events and follow up with customers to ensure smooth software implementation. By adopting these types of strategies, subcom offerings can increase customer engagement and identify issues before they become a threat to retention.
A win-win-win-win-win philosophy is possible
The customer is king. Still, without the numerous industries involved in the subcom process, there wouldn't be a customer to serve. That's why Paul Jarrett, co-founder and CEO at Bulu Box, shared his five-way-win philosophy – ensuring success for customers, employees, owners, partners and the greater community. Bulu Box used this philosophy to help drive forward crucial decisions, including the sale of its Bulu Marketplace and choosing the right warehousing space. Paul's presentation was an important reminder that in our pursuit of the best customer experience, we need to think about what's best for all our stakeholders.
Another Subscription Summit comes to an end
We're excited to work with Subscription Summit and the team at the Subscription Trade Association. SUBTA co-founders Chris George, John Haji, Michelle Lange and Paul Chambers continue to put on a great show year after year, and the work they do with both startups and experienced boxes has made a significant impact in the industry. "Building a community and relationship toward co-opetition is why we started Sub Summit," George says. "We're here to help all of our members and partners grow."
For more information on this year's Subscription Summit, visit the event website. We hope to see you at next year's show.
Share this Article!