Synergy's 'brain' power again recognized in Top Supply Chain Award
WMS technology innovator Synergy North America has again been selected in the annual Top 100 Great Supply Chain Partners by leading industry title SupplyChainBrain.
Synergy, provider of the award-winning cloud-based SnapFulfil WMS suite, was selected following a detailed recommendation by leading online farmer-to-farmer and Ag tech company, Farmers Business Network (FBN). FBN fast-tracked their explosive growth in 2021 via a unique 'self-implementation' program that allowed FBN to onboard the SnapFulfil WMS solution themselves.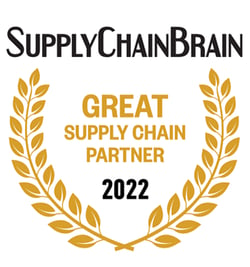 In just a year, FBN delivered on 15 new DCs fully operational and powered by SnapFulfil.
FBN volumes and customers have rocketed exponentially due to the micro-DC approach, which facilitates much more efficient and cost-effective operation. They have since built their TMS integration around the SnapFulfil solution, and with an expansion roll out into Australia and Canada underway, are using the blueprint to create their own custom API with SnapFulfil.
How was this significant growth valued in the Agtech sector? As AgFundernews reported in November of 2021, "Farmers Business Network (FBN) has raised $300 million in Series G funding at a valuation just shy of $4 billion. That's more than double its valuation in August 2020 when FBN, which is both a fintech marketplace for farmers and a data analytics platform for online grain and inputs, raised $250 million."
Brad Berger, Publisher for SupplyChainBrain, says: "Our 100 Great Supply Chain Partners are a select group of companies whose customers recognize them for providing outstanding solutions and services. Our six-month online poll of supply chain professionals requires a qualified response, asking them to nominate vendors and service providers whose solutions have made a significant impact on their company's efficiency, customer service and overall supply chain performance.
"This year's field of nominees was highly competitive and overall excellent – coming from all sectors of supply chain management. Synergy North America should be proud to be named amongst the 100 Great!"
Synergy North America CEO, Rich Pirrotta, added, "We are delighted to receive this recognition, but more pleased that FBN is achieving their corporate objectives and value in the market. Speed remains a competitive advantage. Some of the activities we're seeing from winners in this race like FBN are a drive to self-implementation, launch of new facilities and distribution centers in weeks, not months, and building capability for interacting with third-party partners with high efficiency. With our focus on rapid value, Synergy aims to be the provider of choice for organizations in the D2C sector, as well as the third-party logistics (3PL) companies that support retail and D2C.
Synergy North America is proud to take its place in the coveted 2022 August issue of SupplyChainBrain magazine and on SupplyChainBrain.com as a continued and honored member of the 100 Great Supply Chain Partners.
Share this Article: