Synergy to debut SnapFulfil's new interface and reporting capabilities at ProMat 2017
Supply chain professionals attending ProMat 2017 will experience new added benefits of SnapFulfil first-hand. Synergy NA Inc., providers of the multi award-winning warehouse management system (WMS), will be providing demonstrations of SnapFulfil's redesigned interface and advanced reporting tool during the tradeshow.
The new SnapFulfil application – built entirely in HTML 5 – offers enhanced mobile capabilities, which means users can easily manage their warehouse from the WMS on mobile devices. Planning and forecasting will also become more intuitive and accurate with the solution's new control tower reporting tool. While SnapFulfil currently powers a robust suite of reporting capabilities, leveraging the configurable and intuitive control tower dashboard will offer real-time visibility into what's happening throughout every facet of warehouse operations from a single hub.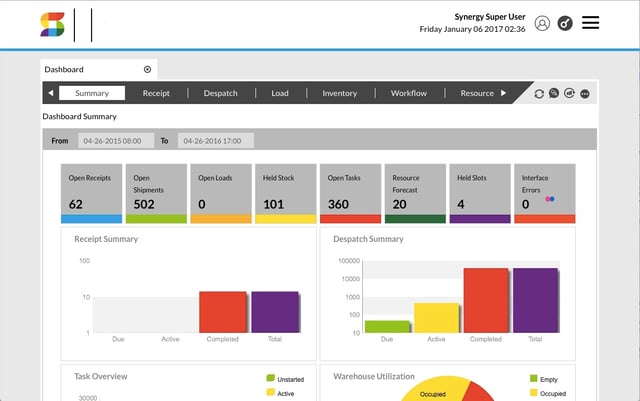 "These new additions to our WMS software are coming to market at the perfect time. As more demands are being placed on the warehouse to keep up with on-demand consumers, now more than ever, supply chain teams need the type of flexibility and insight SnapFulfil 2017 is providing," said Chris Anton, executive vice president of business development at SnapFulfil.
Unlike most Tier I WMS models, customers wishing to take advantage of the new features in SnapFulfil 2017 will be upgraded free of charge to the new version. SnapFulfil's take on upgrades is a breath of fresh air within the warehouse management software space, ensuring that customers are always on the latest version of the software, without the cost and re-implementation headaches often associated with a brand new software release.
"In a traditional WMS model, companies must either pay to upgrade or run the risk of getting locked in to a version of the WMS which may not be supported in the long term. Unfortunately, this means that they end up paying for additional features that don't ultimately help them reduce total cost of ownership," said Anton. "While upgrades are clearly necessary, with SnapFulfil these are all part of the service, offering supply chain professionals a much easier and more cost-effective option."
For more information about SnapFulfil's attendance at ProMat click here or visit ProMat booth #S3670.
Share this Article!