You've considered how subscription commerce might affect your standard warehouse procedures, and you feel confident enough to take your box live. Congratulations! Now the real work begins.
As you begin operations with lower demand, your team may be able to handle the smaller number of orders like a well-oiled machine – picking, packing and shipping boxes in a timely manner. You'll be able to provide the superior customer service needed to surprise and delight subscribers and grow your base.
When your box takes off, however, the demands on your staff will increase exponentially – and quickly. Shipping more boxes means not only streamlining packing processes, but also managing extra stock. If you offer a curation box with a mystery set of items each month, large-scale growth may also require you to manage extra SKUs. Customer expectations for your box will only increase, as your ability to successfully produce the box without altering your processes decreases.
If you want your box to flourish, don't wait to review high volume shipping solutions until your fulfillment processes are unsustainable. Consider these common pain points and the technology that can help alleviate your stress.
Picking: Time is Money
Imagine you run a box focused on sports memorabilia that ships out once a month. Your box offers items from multiple teams, and for each team you have a collection of t-shirts, mugs, hats and collectable cards. These items change every month, and different teams are more popular than others. You have to track exactly how many and which items to pull, and with so many boxes to pack, you only have seconds to collect the right inventory.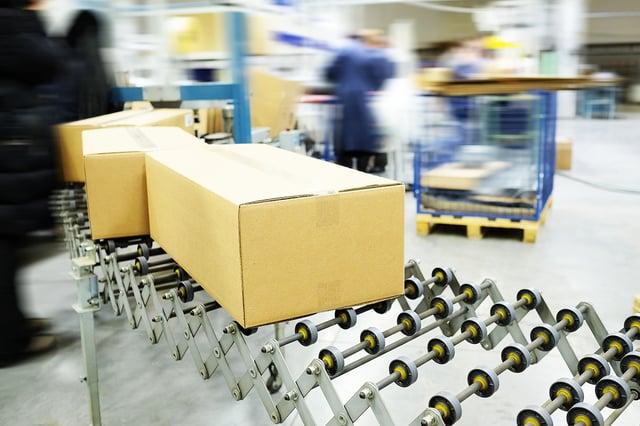 Picking can become quite complicated as your subcom business grows – especially in a curation model, where each customer may receive a special combination of smaller items within the box. Without highly efficient picking processes, you lose valuable time – and, consequently, revenue – as your workers wander the aisles.
One option to solve picking challenges is to adopt a cloud-based warehouse management system. A WMS simplifies order tracking, giving managers the visibility they need to see their most popular orders – in the sports memorabilia example, which teams have the highest demand. Managers can then use that data to reorganize inventory and shorten the distance workers must move through the warehouse while picking. If the materials for the three most popular teams are located next to a picking station, it's quicker to fulfill those orders. Every second counts.
Packing: Mastering QC
The packing process requires remarkable attention to detail, even more so in a curation model. You must ensure you've pulled the correct packing list. You need to double check the box to make sure it has exactly the contents it needs, observing both items for the customer and promotional materials such as coupons. You'll need to seal the box and ensure there are no dents or scratches. In a curation model especially, presentation is crucial.
A fit-for-purpose cloud WMS can shoulder some of this burden. Manual processes require either extra labor reserved for quality control – not cost effective – or a transition of QC duties to the packing stations, which leads to greater inefficiency. A WMS can automate the QC process and validate every order, helping move items through the packing process quickly while reducing errors. Technology can't pack the boxes for you, but it can serve as an extra pair of eyes in a process that demands accuracy.
3PLs: An Alternative to In-House Warehouse Management
If you're concerned that increasing demands will significantly affect your ability to maintain fulfillment standards, third-party logistics (3PL) providers could be another option. A 3PL will manage your inventory and shipping processes, freeing you to focus on other business objectives.
A 3PL isn't right for every subcom business. You need to consider every facet of your operation to determine whether you can outsource fulfillment, or whether it's better to maintain your processes in house. Think about:
Is my product right for a 3PL? For curation offerings, this is an important question, as the box design is part of the offering. The more complicated your packaging, the more you may want to consider keeping operations in house. If you have simple packaging and stockpile goods, more commonly seen in the continuity model, the transition to 3PL may be easier.
Am I comfortable placing my product in the hands of a 3PL? Your 3PL might be responsible for pick, pack and ship, but your name is still on the box. You'll receive the praise if the item arrives on time, and the criticism if it doesn't. Don't place an unnecessary burden on your brand. Before investing in a 3PL, talk to some of their current customers to make sure you've chosen a provider you can rely on.
How much control do I have over 3PL operations? Review your agreement to see how much input you have in how your product is distributed. If you have a particular carrier you prefer, or a level of warehouse management technology you'd like for the 3PL to employ, determine whether the contract allows you to chime in on such decisions.
For a more in-depth look at 3PL vs. in-house operations, review our blog post: Considering a switch to 3PL? Five questions to ask yourself before signing the contract.
Get ahead of the challenge
Rapid growth can be exciting – but it can also be daunting. If you choose to keep your operations in house, consider adopting a fit-for-purpose cloud WMS as a data collector. You'll gain the real-time visibility into floor operations you need to make changes on the fly and drive maximum productivity. When it comes time for growth, you'll be ready to tackle your pain points and deliver the superior experience your customers expect.