SnapFulfil warehouse management system appoints new CEO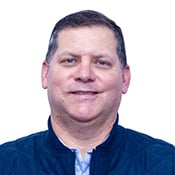 Don White has been appointed Chief Executive Officer of SnapFulfil, a best-of-breed, real-time warehouse management system that drives highly efficient warehouse operations. His selection as North America leader comes after holding other internal positions as Vice President, Enterprise Solutions and Senior Vice President, Applications and Robotics.

"I am proud to be at the helm of SnapFulfil as we expand our offering and bring an entire new set of value propositions to supply chain execution and operations customers," said White. "SnapFulfil intends to achieve great things in 2020. We have a very competitive product, with the most utility and the best team of people to implement and support it. We'll be a significant positive disruptor as our application and our team show just how nimble and innovative we can be in 2020 and beyond. We'll challenge our competitors to not simply match our effort but do so with the same grace and acumen that we bring to every interaction."

White has over 20 years' experience in Supply Chain Execution both in Operations and Software. His Supply Chain career began in the US Navy as a member of its Supply Corps, serving aboard submarines, followed by instructor duty for newly commissioned Supply Corps Officers. He then performed in leadership and management roles with various companies including Benchmark Electronics, XCD Performance Consulting, Domino Sugar, JDA, Infor GT Nexus, Dematic, and Grand Junction.

He holds degrees in English Literature, English Rhetoric and an advanced degree in Business Administration. He holds multiple industry-specific certificates and qualifications.

White resides in Dixon, CA with his wife, Traci. He has three children and one grandson. His hobbies include playing golf poorly and coaching water polo.
Share this Article!