SnapFulfil recognized as Top 100 Provider for fifth consecutive year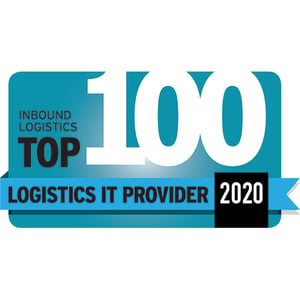 SnapFulfil, the multi-award-winning cloud WMS, has been named in the list of Top 100 Logistics IT Providers by Inbound Logistics for the fifth straight year.
Every April, Inbound Logistics editors recognize 100 logistics IT companies that support and enable logistics excellence. Drawn from a pool of more than 300 companies, using questionnaires, personal interviews, and other research, Inbound Logistics selects the Top 100 Logistics IT Providers who are leading the way in 2020.
Editors seek to match readers' fast-changing needs to the capabilities of those companies selected. All companies selected reflect leadership by answering Inbound Logistics readers' needs for scalability, simplicity, fast ROI, and ease of implementation.
Inbound Logistics' Editor, Felecia Stratton, said: "Recent events remind businesses to focus like a laser beam on improving enterprise operations through technology investments. The challenges are many and are now top of mind. Improving end-to-end visibility, achieving closer integration with value chain partners, finding efficient sources of transport lift, nailing down chain of custody and sustainability concerns to limit liability, and inventory scalability have clearly become survival issues for many. Inbound Logistics is proud to honor SnapFulfil because its solutions address these critical needs and help companies move along the continuum to truly becoming demand-driven enterprises."
SnapFulfil's North America CEO, Don White, added: "We are delighted to have received this recognition for the fifth consecutive year. Our WMS technology has really stood out during the Covid-19 pandemic as its ability to be onboarded and managed remotely, plus capability to optimize the flow in and out of goods with minimum staff, has proved to be invaluable to new and existing clients."
About Inbound Logistics: Since its inception in 1981, Inbound Logistics' educational mission is to illustrate the benefits of demand-driven logistics practices, give companies the knowledge to help them match the inbound flow of materials to their demand, and align their business process to support that shift. Inbound Logistics offers real-world examples and decision support to guide businesses to efficiently manage logistics, reduce and speed inventory, and offset rising materials and logistics costs, supporting business scalability and change management across their value chain. More information about demand-driven logistics practices is available at www.inboundlogistics.com.
About SnapFulfil: Thanks to its unique blend of Tier 1 WMS functionality, proven delivery methodology and enterprise class IT infrastructure, more and more companies are turning to cloud-based SnapFulfil to optimize inventory, space and labor within their warehouses. Offering a range of deployment methods and payment options, whatever the warehousing challenge, SnapFulfil offers a solution.
Share this Article!