SnapFulfil leader named amongst Europe's finest
SnapFulfil's Chief Operating Officer, Stefanie Rollins, has been listed in the Top 25 Women Leaders in Software of Europe for 2021.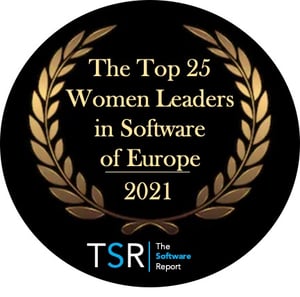 This annual award by global market research and insights company, The Software Report, heralds inspirational women who have contributed towards the advancement of not only their companies, but the broader software industry at large - facilitating seamless digital transformation and more efficient business processes.
Stefanie was evaluated based on her breadth of experience, professional milestones achieved, contributions to business development, and perhaps most importantly her impact towards promoting a positive and productive work environment.
A delighted Stefanie said: "It's very gratifying to be selected for the Top 25 European Women Leaders in Software award and placed in such illustrious company. I understand hundreds of exceptional women were nominated in this year's process, so it is both an honour and a privilege to make the top tier of software solution providers and be formally recognised in this manner."
As COO for SnapFulfil, Stefanie has a remit for North America, as well as UK & Europe. She has held that position since January 2019, having previously been VP/Head of Support Services. Her passions are mentoring, coaching, plus problem solving and Stefanie is currently moulding the future of Operations for SnapFulfil and its clients - focusing on continuous improvement for all.
Her latest success story is a pivotal role in the launch of the company's new 'AI-style' training tool and fully integrated digital adoption platform, SnapBuddy, which ultimately enables customers to self-configure their SnapFulfil WMS.
In her 20 years at SnapFulfil, Stefanie has also headed up the company's Support Services, Quality Assurance and Customer Success teams, with extra responsibility latterly for developing the Implementations offering in keeping with a leading supply chain execution solutions specialist.
Apart from Stefanie's supply chain technology specialism, this year's Top 25 Women Leaders in Software awardees represent companies that provide winning solutions across a wide range of functional areas including human resources, the internet of things, project management, artificial intelligence, machine learning and data analytics.
Share this Article: