SnapFulfil announces autonomous fulfillment cart, SnapCart
SnapFulfil, a Tier-1 warehouse management system (WMS) provider, today announced the creation of its new, innovative fulfillment cart, SnapCart.
SnapCart is an extension of SnapFulfil's WMS and is designed to help small parts picking and eCommerce fulfillment centers streamline their current picking operations. Warehouses can adopt SnapCart without making any costly infrastructure changes.
An upgrade to standard person-to-goods models, SnapCart works side-by-side with manual carts and operates under a cellular picking model. Warehouse pickers are assigned to smaller cells, which are serviced by an autonomous cart working on a pick-to-light system. This allows the carts to do the majority of aisle movement, reducing pickers' daily walking distance significantly, from as much as 15 miles to 1 mile.
With its easy-to-use interface, warehouse workers can be trained on the solution within minutes, so operations aren't disrupted for wide-scale implementation. Warehouses also have the flexibility of purchasing SnapCart for the entire warehouse, or adding carts as needed, allowing for both scalability and start-up cost management.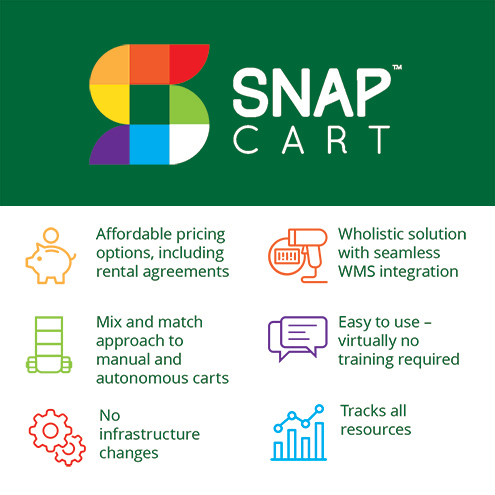 The product serves SnapFulfil's mission of providing innovative technology that can be practically implemented in warehouses of all sizes. SnapFulfil teamed with top university robotics departments to fit the SnapCart with navigation technology best suited for the warehouse environment, providing safe and efficient maneuvering around the warehouse.
"As fulfillment operations in both the U.S. and the U.K. feel the labor crunch, it's more important than ever that warehouses ensure maximum efficiency with their current workforce," said Hugh Stevens, president at SnapFulfil. "We want to harness the power of autonomous fulfillment carts so we can provide warehouses with an innovative, practical solution they can use sooner, rather than waiting for technology to mature."
SnapCart will enter beta testing within 60 days.
Share this Article!