Seventh Heaven for Synergy - Recognized Again as a Top 100 Logistics IT Provider
Synergy NA (provider of the multi-award-winning SnapFulfil cloud WMS) has once again been listed in the Top 100 Logistics IT Providers by leading industry title, Inbound Logistics.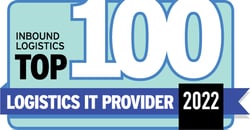 Inbound Logistics editors herald the best 100 logistics IT companies globally that support and enable supply chain excellence - and the SnapFulfil warehouse management system has been recognized as a best of breed Tier 1 system for the seventh successive year.
Its stand out functionality that quickly delivers wide-ranging efficiency, financial, operational and productivity improvements to warehouses large or small were all highlighted.
Inbound Logistics' Editor, Felecia Stratton says: "Implementing the best logistics technology helps enterprise companies expand markets and drive undiscovered efficiencies. World-class solutions such as SnapFulfil are force equalizers for SMEs too, by leveling the playing field with their larger competitors. Best-in-class logistics IT also helps today's business logistics managers boost supply chain performance and customer service while cutting overall logistics costs. Inbound Logistics editors selected SnapFulfil for its consistent ability to deliver innovative solutions empowering logistics and supply chain excellence for companies large and small."
Drawn from an elite pool of more than 400+ companies worldwide, using questionnaires and other research, Inbound Logistics selects the Top 100 Logistics IT Providers who blaze a trail and answer their audience's needs for scalability, agility, configurability, fast ROI, and frictionless implementation.
Synergy NA CEO, Rich Pirrotta, adds: "It's always gratifying to be selected as a global technology leader and we look forward to matching leading edge solutions to the Inbound Logistics audience of top manufacturers, distributors and retailers. With our focus on rapid value, Synergy aims to be the provider of choice for organizations in the burgeoning D2C sector, as well as the high growth 3PL companies that increasingly support retail and D2C."
About Inbound Logistics: this pioneering magazine empowers demand-driven enterprises. IL's educational mission is to guide businesses to efficiently manage logistics, reduce and speed inventory, and neutralize transportation cost increases by aligning supply to demand and adjusting enterprise functions to support that paradigm shift. More information about demand-driven logistics practices is available at www.inboundlogistics.com.
Share this Article: