Seamless omni-channel service will keep customers coming back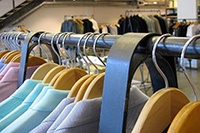 According to the latest footfall survey from the British Retail Consortium (BRC), bricks and mortar retail spaces across the UK are continuing to see falls in customer traffic. In spite of an increase in the number of city and town centre retail units, traffic on the high street has declined: the BRC and Springboard research uncovered a 2.2% decline in traffic while the volume of consumers visiting shopping centres has dropped by 2.5%.
A contributory factor in the steady decline of shoppers in physical retail outlets is the rise of online shopping, with retailers operating both high street and web stores now having to offer a seamless omni-channel experience to avoid cannibalisation of their store traffic by their online channels.
John Munro, External Affairs Advisor at the BRC, explains: "The way that we shop has changed. It's not only internet shopping, but it certainly has a lot to do with it; as people are now shopping in different ways. Whereas before people browsed at the shops, they are now researching online before they go shopping, and then going out to directly purchase."
Today's consumer is increasingly channel agnostic and expects a flawless shopping experience, whether buying online, in store or using some combination of the two. While most customers have no loyalty to a particular channel, retailers who can deliver on this expectation will drive brand loyalty and repeat business.
Click and collect services represent a win-win, offering convenience for the consumer and driving traffic to retailers' stores, but also require integration between e-commerce and store fulfilment operations. This is impossible to achieve without an effective warehouse management system to provide visibility of orders and inventory.
Share this Article!