In the world of business software, many different solutions are competing for attention. As consumer demands change rapidly, and the fundamentals of commerce become more widely driven by data and automation, many businesses feel compelled to make a change in their choice of software. Small and medium-sized companies stand the most to gain from such bold moves, but without making the right choice, they could be putting a lot at risk as well.
One of the more common business software solutions today is enterprise resource planning suites. By combining a host of business administration tasks and services under one roof, many ERP solutions promise easy integration for a variety of scenarios. Unfortunately, the typical ERP system often falls under the mantra, "jack of all trades, master of none."
Covering the bases
When evaluating ERP solutions, it helps to consider how the solution will provide real value to your business. According to software provider Integrasi Group, a business's long-term objectives must align with not only the cost of ownership related to an ERP suite, but the actual return on the investment into this software. ERP solutions may be good for broad business functions like order tracking and basic data insights, but may become increasingly burdensome as a business grows or becomes more complex.
"Even if the ERP warehouse module is presumed to be 'free,' it may not generate an ROI equivalent to that of a best-of-breed WMS because it lacks key functionality, or the vendor lacks the domain expertise to deliver missing functions through customization," Integrasi noted.
Even though many ERP solutions now offer some WMS integration, it may be of little use for anything more than general purposes. For example, businesses that specialize in kitting or assembly of one product from a variety of parts may not find much value in an ERP system due to its lack of specificity. Daniel Harris of Software Advice, an online resource for software buyers, noted standalone WMS systems provide greater levels of visibility throughout each step of the inventory process. Particularly with a cloud WMS, users and their clients have the ability to track and manage inventory from almost anywhere. Cloud WMS solutions are also extremely flexible and quick to integrate, unlike ERP solutions that may lose functionality as they scale up in a business.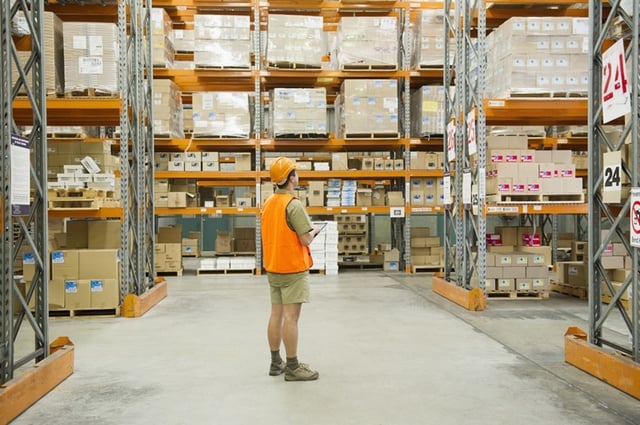 When choosing between an ERP and WMS, consider how each will help your business grow.
Numbers don't lie
The dual advantage of high functionality and favorable ROI combine to make WMS systems one of the most widely used applications among supply chain professionals. According to a survey from DC Velocity, 57 percent of respondents said they currently used a WMS, compared to 52 percent who relied on ERP. The survey also touched on business leaders' thoughts on ROI. While the largest share of respondents (31 percent) said they considered one year to be the optimal time frame in which ROI should be achieved, most said their chosen solution did not meet their expectations for cost savings.
DC Velocity did note that many supply chain managers surveyed were looking forward to the promises of cloud technology to provide added savings and increased value to their operations. Cloud WMS solutions have the potential to begin delivering real functionality for businesses at a fraction of the cost of on-site or legacy software. This is a big reason why DC Velocity found around one-third of survey respondents had chosen cloud software solutions to drive their businesses forward and make intelligent decisions. More than half of them said their cloud software had closed the gap between implementation and the realization of cost savings.
Cloud changes the game
In the past, the debate between best-of-breed software and ERP systems was clear-cut. The advent of cloud technology, however, has effectively disrupted this argument. According to an article from software vendor MSI, the question of choosing between best-of-breed solutions and an ERP has typically come down to one of breadth vs. depth, with ERP covering the former and best-of-breed the latter. Now that cloud software has come into the mainstream, however, the debate has swung away from both (ERP and traditional best-of-breed) services, as they are still largely on-premise solutions. As MSI explained, cloud's maturation as a feasible business solution makes WMS software more affordable and less cost-intensive, especially as it relates to IT setup and maintenance. Cloud software can be deployed and integrated faster and with greater ease, while still allowing a deep visualization of specific data. With cloud's advantages, businesses can achieve top-of-the-line functionality that best-of-breed software provides, but do so with the potential for a much higher payoff.
A cloud WMS could be the secret to maximizing growth. If supply chain managers are considering an ERP alternative, it's important to remember every cost involved.