ProMat 2019: Lessons learned for the year to come
Another ProMat show has come and gone – and as always, I'm amazed by the show's scope and the impressive amount of materials handling technology on display. Whether you needed a solution for picking and packing, tracking inventory or managing shipping and returns, there were multiple options on display for any size fulfillment operation.
SnapFulfil had a bigger presence at the show this year, as we rolled out cellular picking and our brand new robotic picking cart, SnapCart. We're excited to introduce SnapCart as a cost-effective alternative in smaller to mid-size warehouses for which goods-to-person technology isn't the right answer. SnapCart reduces the distance pickers need to walk by miles a day and can be implemented without any infrastructure upgrades.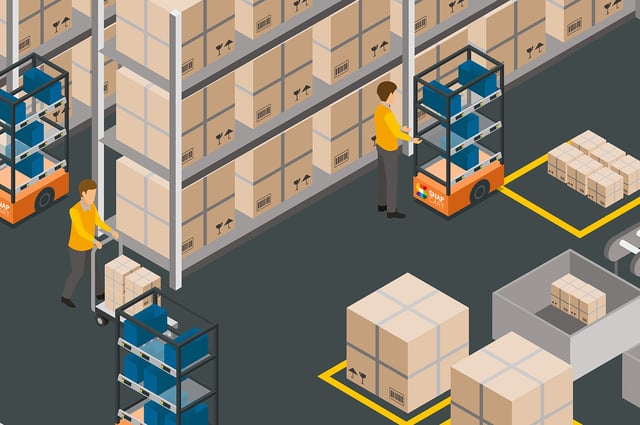 Because we were busy at our booth, we didn't have too many opportunities to explore the show – but the time we did spend walking the floor was enlightening. Here are a few of our key takeaways:
Warehouses are learning to do more with less
Efficiency was key in many of the technologies on display this year – reducing distance driven, simplifying packing and managing cramped warehouse space. Although the amount of space absorbed in the industrial and logistics sector remained balanced with the amount delivered in Q1, the overall amount of open space remained at its lowest availability since 2000, according to CBRE.
As customer demand rises, unemployment reaches record lows, and space comes at a premium, it's no wonder ProMat vendors focused on viable solutions for the warehouse boom. Racking solutions showed attendees the benefits of utilizing vertical warehouse space, while new innovations in warehouse equipment promoted technology such as lithium ion batteries. It was evident across the show floor – the focus is now on efficiency from every piece of technology you purchase and every solution you adopt.
Robots are here to help – not hurt
We hear concerns in the fulfillment industry that automation is hurting jobs – that robots are taking away jobs from humans. It's true that automation is changing the way we pick, pack and ship. But while robots were the talk of the show, it's clear that the technology isn't making us futile. It's simply changing the way we work.
New robotic solutions are moving humans away from repetitive roles that can take a physical toll on our bodies. We're free to focus on roles such as packing, which has become more customer-facing in the e-commerce era, and demands greater attention to detail. That was the message across the exhibit hall: technology isn't our threat. It's our partner, and it's ultimately making us more productive. For warehouses on the fence about adoption, it's time to take stock of your processes and determine where automation can lend a helping hand.
Data is the new currency of choice
You've heard the cliché "Time is money." Warehouses aren't traditionally considered centers of profitability, but now that we're able to better measure warehouse productivity through technology, we can save money by reducing the time it takes to move product out the door. That's why it came as no surprise that data was a consistent topic from booth to booth.
Businesses seeking to improve fulfillment are leveraging data from two sources. One is warehouse processes, allowing warehouse management to see where pick, pack and ship operations are moving like clockwork, as well as where adjustments need to be made. The other is sales, helping management better understand buying patterns and, ultimately, order and stock the right items to avoid a sellout. The companies that harness this data will succeed. The ones that ignore it will struggle.
Warehouse management: the consistent thread
Today's best-of-breed warehouse management system (WMS) is present in each of these discussions. Warehouses are adopting WMS to improve efficiency, better manage customer and process insights, and introduce new and emerging technologies – such as robots – into their operations. With the introduction of SnapCart into our WMS offering, SnapFulfil is ready to help warehouses address these challenges both today and tomorrow.
Share this Article!