It's Official - CEO Don White is a Supply Chain Pro to Know!
SnapFulfil CEO North America, Don White, has been named a winner in Supply & Demand Chain Executive's 2021 Pros to Know award.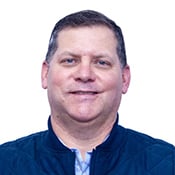 This coveted award is by a leading industry title that positions itself as the only publication covering the entire global supply chain – and recognizes outstanding executives whose accomplishments offer a roadmap for other leaders looking to leverage supply chain for competitive advantage.
2021's select list includes individuals and teams who have helped supply chain clients and the supply chain community at large prepare to meet many of today's and tomorrow's challenges.
Supply & Demand Chain Executive and Food Logistics Editor in Chief, Marina Mayer, said: "While many companies have struggled to re-gain their footing as a result of COVID-19, this year's Pros to Know winners stepped up to the plate to deliver innovative solutions and programs in a time of crisis and need. These winners collaborated, optimized, developed, educated and played a critical role in the survival and success of their company amid a global pandemic.
"I am honored to recognize these individuals and teams, and extend my utmost gratitude to everyone in the supply chain industry for their time, efforts and innovations to keep our nation's supply chains afloat."
During the past year, Don has led multi-national, multi-site implementations completed at unprecedented speed and customer satisfaction. Shepherding SnapFulfil through a global pandemic also required the development of a unique remote implementation process, which provides a quality, reliable, and customer-focused 'go live' process even while navigating tough remote work requirements.
He added: "It's always gratifying to be selected for awards like this, because they recognize and appreciate solid understanding of change management and group leadership. The pandemic-related explosion in e-commerce demand stressed existing operations, especially when bricks-and-mortar retail stores experienced mandatory curtailment of operations. But the flexibility and configurability of SnapFulfil meant that existing and new customers achieved extraordinary results in time-to-value, with many new implementations taking as little as 30 days.
"Changing the ratio of B2B and B2C has even been possible over the course of a weekend, through moving from bulk, pallet-based shipping to high-touch, high-volume batched order picking and ramping to exceptional productivity. And that's what I'm so passionate about the difference we can make to productivity and accuracy within the warehouse.
"Most especially important though is an organization willing to change, and I'm fortunate enough to be surrounded by motivated, exceptional people who focus on customer success and improvement."
Share this Article: