Is your warehouse ready for Christmas?
Amid this year's summer holidays and August heat waves, Christmas was not likely top of mind for most UK consumers. But for the average warehouse manager, time is already running short in the run up to peak trading. Some of the nation's biggest retailers have already begun posting wanted listings new workers who are very much in demand across the industry. John Lewis, for example, announced it was looking to fill more than 3,500 temporary positions for Christmas, the bulk of those being in distribution roles, according to Logistics Manager. U.S.-based behemoths like Amazon reported similarly staggering numbers of new talent needed to ensure packages arrive under the tree on time.
"There's more pressure than ever on warehouses to perform flawlessly."
Hiring the right amount of capable staff is vital to the success of any warehouse in any season. However, even the biggest and brightest workers will find themselves hamstrung without a powerful, proven warehouse management system in place to support them. A growing body of evidence is showing that picking the best warehouse software solution could be the biggest driver of productivity for staff and management alike, and Christmas will prove a great time to see this play out.
Out with the old
The evolution of today's retail environment makes greater WMS investment a necessity. As noted in a column on Retail Touch Points, warehouse operations now encompass much more than holding goods to be shipped and placed on store shelves. With the advent of e-commerce, as well as the numerous methods through which consumers and other businesses can now send and receive goods, the warehouse has had to expand its own functionality.
Unfortunately, too many warehouses are trying to meet these new challenges using outdated WMS procedures. In many cases, even large operations continue to rely on paper documents to keep track of orders. Spreadsheet software or other on-premises options don't provide the visibility into a warehouse's total inventory necessary to visualize what's in-stock in real time.
While it may make short-term financial sense to stick with the status quo, the stakes are continually being raised. During peak seasons such as the holidays, what may have been able to support your operations is pushed to the limit. Even the smallest mixup in the warehouse, such as a mistyped data entry, a lost paper form or incorrect order picking, could mean loads of orders going out late or being filled incorrectly. A package that doesn't arrive on time or is incorrect is sure to make for an unhappy customer, especially during Christmas. This can translate into lost business and reputational damage.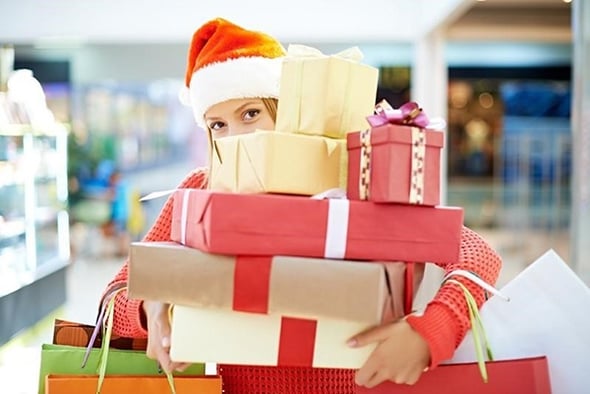 Christmas shopping season is the ultimate test for warehouse operations.
Where WMS helps
Today's warehouses depend on a high-functioning WMS as a core driver of business, rather than an ancillary feature. With a best-of-breed warehouse software solution, retailers will see greatly improved returns on their investment thanks to:
Full inventory visibility
Orders that are filled correctly and on time
Improved efficiency and productivity
While many retailers may no longer have time to implement a top-tier cloud WMS before for the Christmas rush, they should go into this busy season with an eye for optimisation in the warehouse if they hope to see improvement across the board.
Share this Article!