How your WMS can support social distancing guidelines
As we transitionally return to work, companies still face the challenge of maintaining social distancing guidelines while preserving business productivity.
Though many companies are accustomed to scaling operations responsively to keep up with demand, today's businesses face a different kind of response. Covid-19 means they must implement measures that further prioritize and guarantee employee and customer health and safety.
Fortunately, SnapFulfil provides an adaptive approach to business operations and offers easily configured options to support your warehouse operations' needs as companies abide by social distancing guidelines.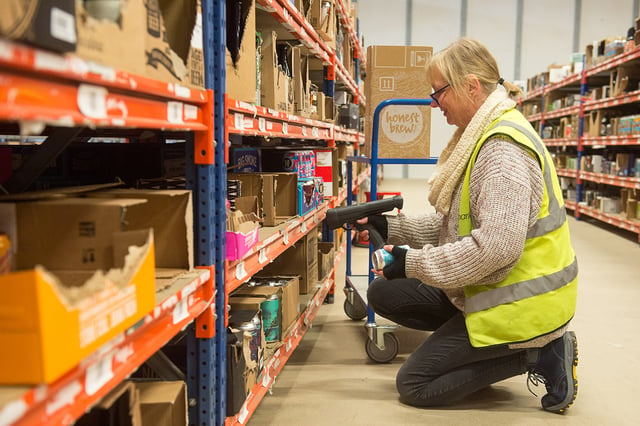 Limit User Licenses
SnapFulfil operates on predetermined concurrent user licenses. As part of the customization process, concurrent licenses can be amended to reduce the number of users logged onto the system and active in your warehouse. By limiting the number of licenses, warehouse operations will better follow social distancing guidelines by easing congestion without exceeding the maximum number of employees in a work setting. If your solution extends operating hours while reducing employees onsite per shift, concurrent licensing does not increase the cost.
Configuration
Our team of industry experts collaborate with you to understand your company's operations and how they interact with health and safety guidelines. Through this personalized configuration, staff and resources can be allocated in such a way to reduce congestion and maintain social distancing guidelines. SnapFulfil allows warehouse managers to stagger and distribute their workload and resources to control movement throughout their warehouse. The following configurations allow for optimization and flexibility as business demands change:
Zoning: As your company incorporates new operational procedures, warehouses can be sectioned into functional zones to allow for the segregation of workflow and operator footprint throughout the building. The use of zones within a warehouse allows for multiple staging and drop off points. Rather than picking and dropping off at a single point, multiple drop-offs allow for efficient zone to zone passing of carts. Multiple zones can also assist with the distribution of resources in specific areas and reduce congestion.
Tasking: SnapFulfil offers a rules engine that can be utilized to configure work to be segregated by task type. Task types can divide work by using physical criteria such as zones and sections or product attributes. Using this approach, warehouse managers reduce the volume of work and resource allocation required in each area of the warehouse at any given of time. SnapFulfil flexibly adjusts to warehouse needs based on predetermined criteria while efficiently completing tasks.
User Permissions: SnapFulfil allows for on-the-fly changes to user permissions through its user-friendly permissions matrix. User permissions can be altered on an ad-hoc basis allowing for flexibility and control for warehouse managers. Based on available task types, users can be granted permissions for specific tasks and only be allocated to those task types on a permission by permission basis. This allows control over the assignment of work and the number of active warehouse staff in one area at any given time.
Rules: SnapFulfil can assist with building rules around optimization of the warehouse using congestion rules. Congestion rules help manage the distribution of footprint across aisles or zones at any given time. This helps prevent an overload of employees in any area of your warehouse using the resource restrictions to accommodate the need for social distancing. Optimization of best practices through specific rules allows for concurrent work without limiting overall operational activity. As best practices evolve, the rules engine can be quickly amended as needed.
Optimal Control
Maintaining control of available workflow is likely to be a primary focus while adhering to social distancing guidelines for warehouses. With that in mind, SnapFulfil allows for the releasing of orders and tasks by different criteria options. Warehouse managers can decide when to distribute work to the floor by specific requirements. Managers are provided with the ability to manage what work is done and ensures that work with the highest priority is completed first while also controlling the volume of available tasks and the resource numbers needed to complete it.
As we enter the next phase of Covid-19, where warehouse labor is already scarce, and in what will quickly become a differently regulated or defined industry, SnapFulfil is designed to help create a safe and healthy work environment. An advanced cloud-based WMS, our program offers a range of features which are easily configured and managed to provide flexibility and control to warehouses.
And you don't have to navigate the brave new world alone – we are here to support you every step of the way, so your warehouse is a safe and healthy place to work.
Share this Article!