In many ways, it's likely that U.S. retailers will soon see the cost of doing business increase. A number of states and metropolitan areas have begun to institute minimum wage increases that could have major impacts on the bottom line. According to a report from real estate firm CBRE Inc., every $1 increase in minimum wages could mean an additional $1 million in warehouse operating costs per year in a business of 500 employees. E-commerce stands to see an even bigger effect from minimum wage increases due to the higher amount of labor required to make these businesses run.
"E-commerce stands to gain big in sales, but may ultimately lose due to high labor costs."
Further complicating the matter for e-commerce operations is their typical location. As the Wall Street Journal noted, most e-commerce operations are clustered in highly populated urban areas. This is so that they might capitalize on high demand and provide fast service that can set them apart from competition. However, densely populated cities are also where many minimum wage hikes are now taking place. Los Angeles, San Francisco, Seattle, Chicago and Washington, D.C., are just a few cities where minimum wages will soon go upwards of $12 per hour.
The increasing costs of running a successful e-commerce operation will require businesses to undergo a careful calculation of potential savings wherever possible. According to Spencer Levy, a researcher for CBRE who spoke to the Wall Street Journal about the study, roughly half of e-commerce supply chain costs go to transportation. That means businesses can essentially rule out moving to a location without higher labor costs, as this would still incur greater transit costs.
However, about 20 percent of supply chain expenses go toward labor, according to Levy. E-commerce businesses are facing substantial growth in the next several years, but considering wage increases, it may be unsustainable to hire more workers even with more revenue coming in.
The long and short of it
To start on a path toward long-term growth, e-commerce retailers should invest in cloud software for warehouse management today. Studies and user experience shows that cloud software allows businesses to effectively do more with the same, or even fewer, resources than they had previously. Even as a retail business grows and wages increase, cloud technology allows businesses to balance short-term financial goals with long-term growth to create a sustainable model for success.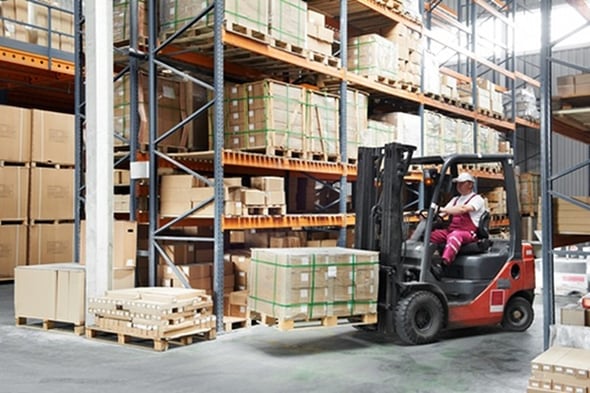 Labor costs may rise significantly in many U.S. e-commerce warehouses.
According to Gartner, making a nominal investment in a cloud WMS could have marked benefits for a business in the near term as well as several years down the line. At first, businesses that choose a cloud solution will see greater flexibility. The essence of the cloud model is scalability, as there aren't as many hoops to jump through to get systems up and running when compared to an on-premise solution. That means a business adopting a cloud WMS today will be set on the path for sustainable growth for years to come, especially considering the ability of cloud software to constantly update itself.
Cloud adopters will also see an increase in retained cash on hand, according to Gartner. That's because cloud solutions tend to have much lower upfront costs than their on-premise competitors. This all adds up to lower opportunity costs, giving executives freedom to invest in their workers or other parts of the business. All of this combined makes a cloud solution the ideal choice for a fast-growing e-commerce business.
It's never easy to face economic headwinds and regulatory uncertainty. With a cloud WMS, however, supply chains can remain agile while still performing to the best of their ability. That means higher employee retention, higher revenues, and most importantly, happier customers.