Gartner highlights continued shift to Software as a Service (SaaS)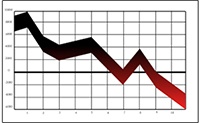 According to the latest forecast by Gartner, global IT spending is set to total $3.5 trillion in 2015 - a 5.5% decline from 2014. But, according to Gartner research vice president, John-David Lovelock, "IT activity is stronger than the growth in spending indicates. Price declines in major markets like communications and IT services, and switching to 'as a service' delivery, mask the increase in activity."
The Q2 2015 update to Gartner's Global IT Spending Forecast also said, "Many software vendors will try not to raise prices because software as a service is about market share, not profitability. Raising prices could take software vendors out of a sales cycle, and these vendors don't believe they can afford to lose a client."
It went on to say, "Increasingly, buyers prefer solutions that minimize time and cost of implementation, driving demand for more-efficient delivery methods, out-of-the-box implementation, and lower-cost solutions."
All of this is true - Software-as-a-Service is a very cost effective and economically viable alternative method of financing software and the shift to lower-cost solutions is naturally impacting on global IT spending. Gartner also predicts that global use of Software-as-a-Service solutions will top $21 billion in 2015: this growth is driven primarily by SaaS providers offering increasingly sophisticated software solutions which provide a comparable alternative to on-premise solutions, with rapid, straightforward implementation and without the hefty price tag.
Due to the typically short term contractual commitments we have to win our customers' business every day, so SaaS vendors like SnapFulfil are highly motivated to ensure that the software works, not only at go live, but throughout the life of the contract.
Share this Article!