Does your ERP WMS provide the functionality you need?
A recent survey from Insight Enterprises found that a large amount of small and medium-size business executives from around the world were planning on making investments in new technology over the next year. Strong sales and steady growth across the board have spurred businesses everywhere to begin putting those increased cash flows to work. The focus of much of this investment will no doubt be on business software that promises to bring higher rates of efficiency and more orders processed. Retailers, manufacturers and anyone involved in supply chain processes are likely to consider an enterprise resource planning solution to open up new business possibilities. However, even with the rapid advance of ERP software that promises to get everything done, there are still some drawbacks inherent in adopting such a broad approach to inventory optimisation.
ERP doesn't cut it
ERP vendors often promise the moon when it comes to solving business issues and optimising end-to-end performance. Unfortunately, the reality is far less rosy. In a study from Gartner Research, which found that 90 per cent of ERP projects initiated by businesses are likely to fail in the next two years, mainly due to cost overruns, complexity and a lack of practical functionality.
"Most ERP projects fail due to the burdensome costs involved."
"Twenty five or more years after ERP solutions entered the applications market, many ERP projects are still compromised in time, cost and more insidiously in business outcomes," Gartner research vice president Carol Hardcastle said in a statement.
While ERP solutions often bill themselves as a one-stop-shop for myriad departments and common tasks within an organisation, they often create a paradoxically more complex environment for everyone involved. Getting them working right means large investments in IT spend, not to mention lost time and productivity from implementation, training and the usual stumbling blocks of new systems and practices. The Gartner study is just the latest piece of evidence that a one-size-fits-all approach to business planning often doesn't fit at all when it comes to key tasks like logistics management.
WMS takes the lead
While modern ERP systems boast a large roster of support functions, including warehouse management capability, the functionality of a fully-fledged cloud WMS still bests most ERP solutions. In their annual report on the "Magic Quadrant" for WMS, Gartner found that these logistics applications were quickly becoming even more advanced to handle the sizable demands being pressed upon retailers and manufacturers these days. The researchers found that WMS solutions continue to grow in breadth and depth, making them even more valuable for business users.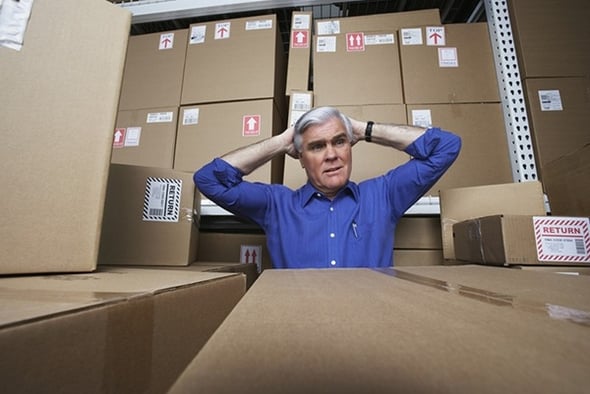 ERP systems, even those with WMS capabilities, have been the source of more than a few headaches.
While every WMS analysed by Gartner was found to include at least the core capabilities typical of warehouse systems, many of them took things several steps further by including several advanced features. These include the ability to customise and configure rules based on exacting customer requirements, the ability to set seasonal pricing and extremely competitive pricepoints for the software and services themselves. With cloud becoming the norm in the business software realm, many WMS have followed the lead, allowing for a regular licence renewal schedule that allows businesses to commit very little in upfront capital expenditure. Subscription pricing models also include dedicated support and service lines to ensure business users are getting the most out of their software.
ERP solutions continue to evolve as well, but still lack the wide functionality that a best-of-breed cloud WMS can offer. When businesses commit to a dedicated WMS vendor, they can be sure that they aren't throwing away cash just to get things to work properly. With the functionality and ease-of-use of the next generation of WMS, businesses really can have it all.
Share this Article!