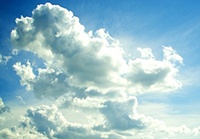 A few years ago when cloud services were a new phenomenon, simply possessing a cloud deployment for your business was a sure fire way of getting an edge on the competition. But, according to a new Harvard Business School study, it is no longer enough to have systems in the cloud - to stand out from the crowd, companies now have to use it in more imaginative ways to derive measurable advantage.
The study, Cloud: Driving a Faster, More Connected Business, from Verizon Enterprise Solutions and Harvard Business Review Analytic Services, surveyed 452 business and IT executives globally to determine how the implementation of cloud services is evolving.
About 84% of respondents said their company's use of cloud had increased in the past year, with 40% saying that it had increased revenue and 36% saying it had improved profit margins.
However, while the ability to act more quickly and collaborate more easily conferred immediate competitive advantage on early adopters of cloud, more widespread adoption has set a new benchmark for business performance. As the study says: "The ability to adapt quickly is less of an advantage when everyone can do it; rather, not adopting cloud is becoming a competitive disadvantage.
"While cloud users in general enjoy positive business outcomes, achieving a competitive advantage is no longer a given as more organisations join the club. Advantage in the future will come from how well cloud is managed and to what extent companies can use it to decrease friction in all of their business activities."
At the same time, business agility remains a leading benefit of cloud, with 71% of respondents saying that cloud has increased business agility in a number of key areas.
Snapfulfil was one of the first technology companies to adopt cloud computing in 2007, when it was revolutionary. The reason cloud is the norm now is because the sophisticated functionality and speed to value offered by our Software-as-a-Service WMS offers a compelling alternative to a costly on-premise solution.
As the report identifies, 'organisations that cut the time between identifying a need for a new capability and delivering it are seeing a real advantage.' Our rapid implementation capability means that our SaaS WMS can be deployed in as little as 45 days, giving our customers an equally rapid return on their investment.