Celebrating our SupplyChainBrain power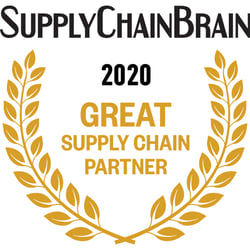 SnapFulfil has again been selected in the annual Top 100 Great Suppy Chain Partners by leading industry title SupplyChainBrain.
They chose SnapFulfil following a case study on leading US embroidery business Z Customization - which houses more than 3,000 items in its 25,000 sq ft HQ in Carlsbad, California for some of the biggest names in sporting goods.
Z Customization needed a more robust and accurate fulfillment process for its customers, to maintain cash flow and deliver superior customer service. SnapFulfil's advanced cloud-based WMS proved to be the answer with its quick implementation, easy configuration and scalability to grow with the business.
The company's shipping accuracy is now greater than 98% and it's thriving as a third-party logistics provider via more effective management of customer SKUs. As a result, year-on-year 3PL revenues growth has almost quadrupled.
Brad Berger, Publisher for SupplyChainBrain, says: "This year's field of nominees was competitive and inspiring – coming from all sectors of supply chain management – and SnapFulfil should be proud to be named amongst the 100 Great! SnapFulfil will appear in the 2020 August issue of SupplyChainBrain magazine and on SupplyChainBrain.com as an honored member of this year's 100 Great Supply Chain Partners.
"Our six-month online poll of supply chain professionals requires specific criteria to nominate vendors and service providers, whose solutions have made a significant impact on their client's efficiency, customer service and overall supply chain performance – so SnapFulfil is part of a select group of outstanding companies."
SnapFulfil CEO of North America, Don White, adds: "We're delighted that SnapFulfil has once again been recognized by this prestigious multimedia title. The accolade is particularly gratifying as it's based entirely on feedback from satisfied customers."
Share this Article!