Big is not always best in the cloud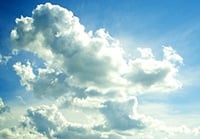 Amazon Web Services, Microsoft, IBM and Google are dominating a greater share of the global cloud infrastructure service market than ever, according to a new study from Synergy Research Group.
Reporting on the study, Talkin' Cloud said that the big four cloud providers now have a combined international market share of 54%, compared to 46% during the same period last year, marking a second consecutive year of market share growth. In terms of financial revenue, the four largest players averaged a year-on-year growth rate of 84% in Q2, compared to 33% growth for the rest of the market.
John Dinsdale, a chief analyst and research director at Synergy Research Group said:
"The increasing gap between the major cloud infrastructure providers and their competitors is only expected to widen. Developing the necessary global hyper scale data centre infrastructure along with the required marketing and operations support is simply beyond the reach of all but a very small number of players. This is not going to change. The good news for the plethora of small-to-medium-sized cloud providers is that there does remain a wealth of opportunity for those that are focused on specific market niches or local geographic areas."
Big is not always best and, for us, it's all about partnering with solution providers to meet the specific requirements of our customers. Snapfulfil's WMS is mission critical to the smooth-running of our customers' operations and we just can't afford outages or downtime. We therefore work with a best-in-breed global data centre provider, via a multi-site, fully resilient, VMWare™ network infrastructure, certified to SAS Level 2, providing a 100% reliable and secure environment for our customers' WMS.
The Talkin' Cloud article concluded:
"While the seemingly unstoppable growth of companies like AWS and Microsoft might bode ill for some small cloud infrastructure providers, it's important to remember that there will always be subsets of customers who need the kind of service and personal attention that billion dollar companies like Amazon simply cannot provide. If infrastructure providers wish to remain relevant in the market, it is important to find and stake out a particular customer niche and focus all possible resources on serving the particular needs of that group."
Share this Article!