Automation with a human touch
With all the enthusiasm surrounding IoT capabilities and new automation technologies, it's easy to forget that robots will not improve picking times or reduce packing errors by themselves – they need human guidance.
Employing next-level tech in a disorganised, pen-and-paper driven warehouse, for example, without improving process efficiency first would be a costly mistake.
As productivity is largely about improving process, it follows that combining people and technology can also improve efficiency and therefore productiveness. It's here where the appeal of automation comes in – however, it has to be balanced.
Technology used within the warehouse should positively affect the ease with which initial conditions for a particular operation are met, so the main question when assessing technology's benefit here is, how much of the initial condition for work can be automated or conducted by a computer rather than a person? The initial conditions don't necessarily need to change, but selective automation can lessen a resource's dependence on them, as well as measurably improving efficiency.
Data collection and analysis tools such as a best-of-breed warehouse management system (WMS) like SnapFulfil are also critical, because after a WMS collects your pick, pack and ship process data, it can drive improvements warehouse-wide, helping employees identify which areas of the warehouse need the most attention and when.
However, it doesn't remove humans from the equation – instead it streamlines processes and frees up time to accomplish higher-level tasks.
One of SnapFulfil's major attractions is the immediate productivity improvements made possible by the system's automated task management functionality. In addition to accurately recording and verifying inbound goods at both receiving and put-away, it also drives a rolling inventory count allowing any discrepancies to be identified in a timely manner and records adjusted accordingly to maintain the highest levels of stock accuracy and integrity.
Managing a strong reverse logistics operation requires a healthy set of technology-driven automated procedures and systems too, because they capture and evaluate increasingly important data sets from every step in the process. Being cloud-based, SnapFulfil offers immense flexibility to handle dynamic return operations as well as easy integration with other company systems to facilitate a more holistic return operation.
The ongoing digital shift has ushered in a new age of fulfilment, yet questions of whether automated processes will leave workers without a role in the warehouse continue to swirl. However, as they grow more comfortable with advanced warehouse solutions, it's becoming clear that automation and robotics are transforming the role of the warehouse worker, not supplanting it.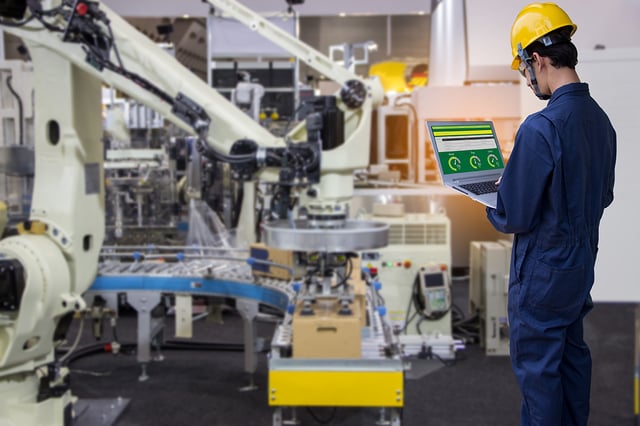 For us it's still a case of 'machine helps man' rather than 'man versus machine' and SnapCart (an extension of the SnapFulfil WMS) is a brand new robotic fulfilment cart that works side by side with manual carts and operates under a cellular picking model.
Pickers are serviced by an autonomous cart working on a pick-to-light system, which allows the carts to do the majority of aisle movement, reducing pickers' daily walking distance significantly, from as much as 15 miles to 1 mile.
Designed with multichannel in mind and to help e-commerce fulfilment centres streamline their high volume, small parts picking operations, it's an area of increasing importance given the ongoing labor shortages in the US and UK.
So all things considered, while warehousing automation is not yet capable of packing items itself, it ensures that productivity, efficiency and accuracy are hard-wired into your warehouse operation from start to finish – and that's to the benefit of both your customers and your bottom line.
Share this Article!