All wrapped up: How productivity and accuracy affect your packing processes
Many warehouses spend significant time optimizing their receiving, slotting and picking processes to "speed up" their ability to process an order. However, in the quest for faster shipping, the process most visible to customers is often left open to errors.
Packing and shipping processes tend to only receive attention when they become a constraint (i.e. when there's a backlog of orders to pack). Maintaining the status quo, however, ignores the endgame: earn money for the company. There's more emphasis now than ever before on improving processes directly related to revenue – and the customer will ultimately judge your business based on how well the item is packed, whether the order is accurate and how quickly it shipped.
If you haven't re-examined your packing procedures lately, start by taking a high-level snapshot of your productivity and accuracy – the two major packing pain points – then consider how technology, such as a fit-for-purpose cloud WMS, can help you streamline your processes.
Productivity: What's slowing you down?
Many facilities understand how to measure productivity (the speed at which packing or shipping happens) at their packing operations, but tend to overlook all of the factors or processes that positively or negatively affect this measure.
To address your productivity pain points, be attentive to the actual steps needed to get an order out the door. First, you must identify the order through scanning or reading the pack list. You then need to validate the contents of the box against order requirements – is it packed not only with the correct item(s), but also with the correct documentation and any promotional materials, e.g. catalogs or coupons? Finally, you must seal the box, apply the shipping label and place it on the cart/conveyor.
Once you've observed your packing process with that level of detail, you can calculate your aggregate time to move items from picking carts to the delivery vehicle and begin working to make each step faster. By determining the length of time every order awaiting packing represents, you'll also know how many man hours / resources / pack stations it will take to clear a back log.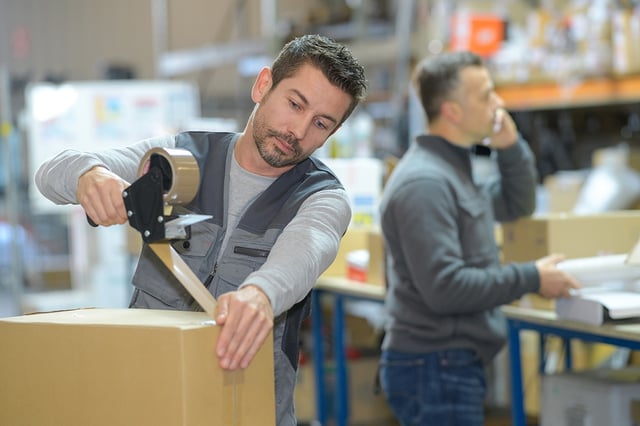 Accuracy: How do you prevent errors?
Delivering the right product to the right place in the right amount of time – at the lowest labor and shipping cost – is everyone's aim. Still, quality issues plague manual shipping and, without some of the basic validation built into a warehouse management system, solving these can be a costly exercise
This pain point centers on labor costs. In an entirely manual warehouse operation, managers have one of two choices: they can hire and assign extra labor to complete QCs, or they can reassign quality check duties to the packing stations. Efficiency suffers as items take longer to move through the pack station, and both options will take a toll on your budget.
By automating and recording the QC, verification and validation of every order, a modern warehouse management system can significantly boost the speed and accuracy of your packing and shipping processes, without adding labor.
Technology as a partner
Packing is a critical process as far as revenue is concerned – every time an order leaves the warehouse you should hear a little cash register ring, because that's where you earn your money! It's also the last opportunity for you to make sure that you delight, and don't disappoint, your customer - they will ultimately judge your business based on how well their order is packed, whether it is accurate and how quickly it shipped. Errors also result in extra returns – a double whammy for your warehouse operation.
However, businesses often pay too little attention and dedicate too few resources to improve it.
While warehousing technology is not yet capable of packing items itself, it ensures that efficiency and accuracy are hard-wired into your warehouse operation from start to finish, to the benefit of both your customers and your bottom line.
Share this Article!